After nearly a week of meetings, Yahoo CEO Marissa Mayer on Wednesday said the company won't move ahead with the planned spin-off of its Alibaba Group Holding Inc. (NYSE: BABA) stake.
The Alibaba spin-off was scheduled for the end of January. However, the spin-off could have triggered a massive tax bill over $10 billion if the IRS successfully challenged the structure of the deal.
The mere thought of such a meteoric tax alarmed Yahoo! Inc. (Nasdaq: YHOO) investors.
Last month, major shareholder Starboard Value sent a letter to Yahoo CEO Marissa Mayer pressing the company to halt the Alibaba spin-off. The hedge fund said Yahoo should instead find a buyer for its core business. That sputtering segment includes advertising, search technology, Yahoo! Sports, and the Tumblr blogging platform.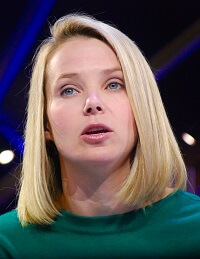 Today, Yahoo said it will focus on a new plan that includes spinning off its core business as well as its stake in Yahoo! Japan.
Yahoo's stake in Yahoo! Japan is worth roughly $8.5 billion. The rest of the business is estimated to be worth between $3 billion and $8 billion, according to analysts' estimates. Yahoo's $31 billion stake in Alibaba is by far its most valuable asset.
Yahoo's new plan would likely be done via a "reverse spin." That could save shareholders billions of dollars in taxes. But such a maneuver could take a year or longer.
It raises the likelihood that an activist investor could challenge the plan in a proxy fight. It also raises chances a buyer could surface for Yahoo's core business during that time.
On a conference call Wednesday, Yahoo made it clear it has no immediate plans to sell the company. It also believes the company is undervalued.
Chairman Maynard Webb confirmed in an interview with CNBC Wednesday that company officials aren't proactively shopping the company. But Webb added the "board has a fiduciary obligation to engage with any person who comes forward with a good offer."
And it appears like just a matter of time before Yahoo CEO Marissa Mayer finds the right deal…