In the days of the Cold War, secret prisons were places where Communist dictators dispatched their political dissidents on trumped up charges, often never to be heard from again.
Back then, Americans would shake their heads in disapproval at those reports and say, "That can't happen here."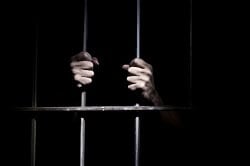 But it can – and has.
The U.S. Federal Bureau of Prisons opened its first "secret prison" in 2007 in Terre Haute, Ind., and a second in Marion, Ill., in 2008. Both are special units inside larger federal prisons – a prison within a prison.
The U.S. government doesn't call them "secret prisons," though. Instead they devised the far more Orwellian "Communications Management Units," since people held in them face much greater restrictions on their contact with the outside world than other prisoners.
"The CMUs were opened secretly, and in many people's opinion, illegally. They didn't go through any administrative oversight. And only until years later did we start seeing some language describing what these prison units are supposed to do," investigative reporter and TED senior fellow Will Potter told The Real News Network in an October interview.
It's mostly because of Potter's investigative work into these secret prisons that the public has any idea they exist.
The idea for the secret prisons grew out of Bush administration concerns that under ordinary rules, imprisoned terrorists could communicate with terrorists overseas.
They fit a pattern of other troubling facilities created as part of the war on terror, including "black sites" such as the notorious Abu Ghraib in Iraq and Stare Kiejkuty in Poland.
The black sites, and in particular the harsh treatment of the prisoners, created a lot of international legal headaches for the United States.
No one has alleged any torture at the U.S. secret prisons (so far). But what is happening at these facilities should trouble every American…