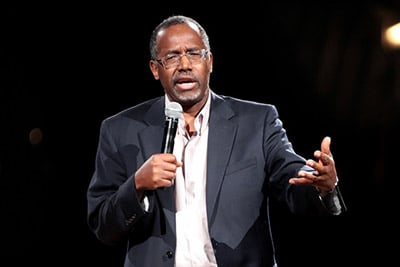 Picking the most controversial Ben Carson quotes is no easy task. Like popular GOP rival Donald Trump, Carson refuses to bend to "political correctness."
Here are 10 Carson remarks at the center of the good doctor's biggest dust-ups...
10 of the Most Controversial Ben Carson Quotes
Most Controversial Carson Quotes No. 1: "I mean, [our society is] very much like Nazi Germany. And I know you're not supposed to say 'Nazi Germany,' but I don't care about political correctness. You know, you had a government using its tools to intimidate the population. We now live in a society where people are afraid to say what they actually believe."  (From a speech at the New York Meeting - a national gathering of elected officials, journalists, business leaders, and conservative authors - in March 2014.)
Most Controversial Ben Carson Quotes No. 2: "You know, Obamacare is really, I think, the worst thing that has happened in this nation since slavery. And it is slavery in a way, because it is making all of us subservient to the government." (During the conservative Value Voters Summit in October 2013.)
Most Controversial Ben Carson Quotes No. 3: "I think the likelihood of Hitler being able to accomplish his goals would have been greatly diminished if the people had been armed." (In an interview with CNN's Wolf Blitzer on Oct. 8, explaining his views on gun control.)
Most Controversial Ben Carson Quotes No. 4: "My own personal theory is that Joseph built the pyramids to store grain. Now all the archaeologists think that they were made for the pharaohs' graves. But, you know, it would have to be something awfully big if you stop and think about it. And I don't think it'd just disappear over the course of time to store that much grain." (1998 Andrews College commencement address.)
[mmpazkzone name="in-story" network="9794" site="307044" id="137008" type="4"]
Most Controversial Ben Carson Quotes No. 5: "I grew up in the slums of Detroit. I saw plenty of gun violence as a child. Both of my cousins were killed on the streets. As a doctor, I spent many a night pulling bullets out of bodies. There is no doubt that this senseless violence is breathtaking - but I never saw a body with bullet holes that was more devastating than taking the right to arm ourselves away. Serious people seek serious solutions." (Facebook post on Oct. 5.)
Most Controversial Ben Carson Quotes No. 6: "And what are we willing to do for our children and our grandchildren? Are we willing to stand up? Or are we afraid that somebody's going to call us a nasty name? Or that we're going to get an IRS audit? Or that somebody's going to mess with our job?  You know, we have a lot less to lose than [D-Day soldiers] did. And the people who are always telling me to hang in there, don't let them get to you. Believe me: Do not worry about it, because the stakes are much too high." (From an Oct. 9 speech given to the National Press Club.)
Most Controversial Ben Carson Quotes No. 7: In response to Carson's business manager mentioning how "clean" and "elegant" President Barack Obama looked during his State of the Union Address in January: "Like most psychopaths. That's why they're successful. That's the way they look. They all look great [...] But he knows he's telling a lie! He's trying to sell what he thinks is not true! He's sitting there saying, 'These Americans are so stupid I can tell them anything.'"
Most Controversial Ben Carson Quotes No. 8: On the IRS: "You know, we live in a Gestapo age, people don't realize it." (In an interview with WND on Feb. 7, 2014.)
Most Controversial Ben Carson Quotes No. 9: On Advanced Placement history courses, after they came under scrutiny late last year for placing less of a focus on American history: "I think most people, when they finish that course, they'd be ready to go sign up for ISIS." (In a speech given at the Center for Security Policy's National Security Action Summit on Sept. 29, 2014.)
Most Controversial Ben Carson Quotes No. 10: On electing a Muslim president: "I would not advocate that we put a Muslim in charge of this nation. I absolutely would not agree with that." (On NBC's "Meet the Press" on Sept. 20.)
Controversial Ben Carson quotes hardly compare to GOP front-runner Donald Trump's one-liners, all of which you can find on our Twitter @moneymorning or on Facebook.
The Markets Will Crash Again: The cracks are already showing. But the impending collapse is also an opportunity. By understanding these five "Super Crash" inevitabilities and making key adjustments, investors can protect their portfolios from the downside while positioning for the upside. This is your last chance to act before it's too late...