The Atlassian stock price skyrocketed on its first day yesterday (Thursday) as the company hit the market in what is likely the last tech IPO of 2015.
Atlassian Corp. Plc. (Nasdaq: TEAM) is an Australian enterprise software firm. It makes products that provide bug tracking and project management functions for software development companies. The company's mission is to promote teamwork, which it says is important in the software field.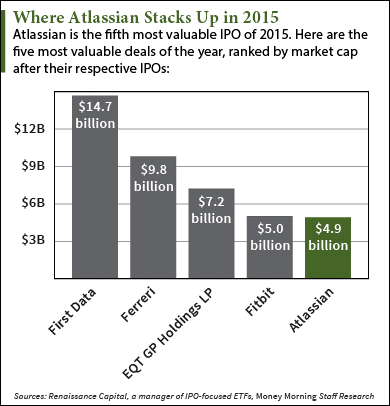 On the evening of Dec. 9, the company raised $462 million by selling 22 million shares for $21 each. Atlassian currently commands a market capitalization of $4.9 billion. It's the fifth most valuable IPO of the year and the largest debut of an Australian company ever on the U.S. market.
The Atlassian stock price popped 32.3% on its first day of trading to close at $27.78 a share. That's well above the average first-day pop of 14% for all 2015 IPOs.
However, TEAM stock will likely endure volatility for the first few quarters of 2016. That's because institutional investors and other Wall Street "VIPs" often buy thousands of shares of a stock and sell them shortly after the IPO to make a quick profit.
This same situation happened with Shake Shack Inc. (NYSE: SHAK). Back in January, Shake Shack priced its IPO at $21 and skyrocketed 120% over the next nine months. That means early IPO investors like founder Danny Meyer and top shareholder Leonard Green saw their money more than double following the IPO.
But on Oct. 8, the company filed with the U.S. Securities and Exchange Commission to sell off 26.2 million shares of Shake Shack stock, worth approximately $1.3 billion. SHAK stock cratered 6.6% that day and is down 10.1% since.
That's why it's best to wait at least three quarters after the Atlassian IPO to consider buying Atlassian stock. This allows retail investors like you and me to avoid being burned by the institutional investors and hedge fund managers looking to score quick profits from a new stock.
Follow us on Twitter: @moneymorning
Like us on Facebook: Money Morning
How to Safely Profit from Any IPO: Investing in newly issued stocks can seem like an exciting way to earn huge profits. But with institutional investors and other Wall Street "VIPs" cheating the market for quick gains, the IPO process is a rigged game nowadays. That's why we've outlined the three best IPO investing rules to follow for any new stock…