The DuPont stock price slipped 5% to $70.83 Friday morning after the company agreed to an all-stock $130 billion merger with rival Dow Chemical Co. (NYSE: DOW). Shares of Dow fell 4.4% to $52.45.
The declines in the Dow Chemical and E I DuPont De Nemours & Co. (NYSE: DD) stock prices today were a "sell on the news" reaction. Shares of both companies rallied earlier in the week amid reports that the merger of equals was close.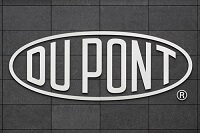 Under the merger's exchange ratio, DuPont shareholders will receive $70.38 a share. That's a total of $61.7 billion, and it's also 5.6% lower than the closing DuPont stock price on Thursday.
Dow shareholders will receive one share of the new combined company for every one of their shares. DuPont shareholders will receive 1.282 shares each.
The combined company will be known as DowDuPont. Once combined, the plan is to split into three separate companies. The three are:
Agriculture: A pure-play agriculture company that unites DuPont's and Dow's seed and crop protection businesses. Projected revenue is $19 billion.
Material Science: A pure-play industrial leader with revenue of $51 billion. This unit will consist of DuPont's performance materials segment and Dow's performance plastics, performance materials and chemicals, infrastructure solutions, and consumer solutions segments.
Specialty Products: The entity will include DuPont's nutrition and health, industrial biosciences, safety and protection, and electronics and communications. Dow's electronic materials business will also be included. Projected revenue is $13 billion.
The two companies generated a cumulative $92 billion in sales in 2014. Once joined, DowDuPont will be the world's second-largest chemical company in terms of revenue. BASF of Germany is first.
The DuPont stock price is now up nearly 45% since Oct. 1. Here's what investors need to know about the stock as we head into 2016...