The Honda stock price closed down 0.28% Thursday after Honda Motor Co. Ltd. (NYSE ADR: HMC) announced the U.S. Federal Aviation Administration (FAA) certified its $4.5 million business HondaJet plane.
According to Bloomberg Business, the HondaJet was certified on Dec. 8. Honda currently has 25 planes in final assembly, and the auto manufacturer is now preparing for pilot training and deliveries.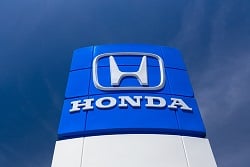 Certification is a major milestone for Michimasa Fujino, the engineer who convinced Honda to stick with the HondaJet for decades, according to Forbes.
"We established Honda Aircraft as a new aerospace company and introduced our first product – an advanced light jet with technologies developed from serious research activities," Fujino stated. "We designed, tested, and have now certified this clean-sheet design aircraft – an unprecedented challenge for Honda."
In order to receive the certification, the FAA tested the performance, safety, function, and reliability of the HondaJet. Total flight hours for the testing exceeded 3,000, according to Forbes.
Fujino told CNBC that there are already more than 100 orders for HondaJets, and the first HondaJet is scheduled for delivery in late 2015 or early 2016.
And Honda has a very specific market in mind for its $4.5 million HondaJet…
When discussing the potential client base, Fujino stated, "Many of them are of course high-net-worth individuals but generally are very young entrepreneurs. Several of them are also pilots and fly themselves."
But despite the major announcement, the Honda stock price remained flat on Thursday. It seems investors aren't sure what to make of Honda pushing into a new field.
But with nearly three decades of experience building the HondaJet, Honda is far from a newcomer to the aviation industry.
And there's reason to believe that the HondaJet could be a catalyst for the Honda stock price in 2016…