Gold prices are in focus this week as the U.S. central bank prepares for its December meeting on Tuesday and Wednesday.
The U.S. Federal Reserve is widely expected to raise interest rates this week for the first time in nearly a decade, and the move will have a big impact on gold prices. The market-implied odds of the first interest rate increase since June 2006 are roughly 81%.
The gold price is expected to trade in a narrow range until the Fed announces its decision on rates Wednesday.
In overseas afternoon trading, gold prices were down 0.8% to $1,065.00 an ounce. In New York's early session, the gold price was off a slight $1.20, or 0.11%, at $1,074.00 an ounce.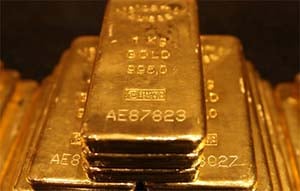 Global precious metal traders are treading cautiously ahead of the FOMC meeting.
A December rate hike would lift the value of the U.S. dollar. That would make gold more expensive to foreign buyers who pay for the precious metal with other currencies. A rate hike also makes it difficult for gold to compete with yield-tagged assets such as treasuries.
While a rate hike looks likely this week, the Fed has made it clear it will move at a measured pace with future rate hikes. That's bullish for gold prices and investors who hold gold.
Anemic growth overseas and divergent monetary policies between the United States and other nations should also keep the Fed from raising rates too quickly. Fed Chairwoman Janet Yellen stressed that point earlier this month.
The current round of policy tightening will likely end with short-term rates at around 3%, not the 4% or 5% seen in prior rate cycles, according to BlackRock.
While a Fed interest rate increase is bearish for gold prices in the short term, prospects of a hike are likely already priced in. Rumblings of a Fed hike have been swirling since 2013. Still, the initial reaction may be a slip in gold prices.
But any sell-off in gold prices will be short-lived…