The Yahoo stock price was down 0.88% in afternoon trading today (Monday) after hedge fund investor Eric Jackson submitted a 99-page proposal on how Yahoo could improve its failing Internet business.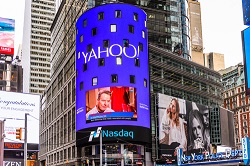 Unlike other activists, Jackson's SpringOwl management firm doesn't believe selling off Yahoo Inc.'s (Nasdaq: YHOO) Internet business will provide shareholders with increased value. He thinks selling now would be selling at a low point, and that Yahoo's Internet business is undervalued because it has been mismanaged by CEO Marissa Mayer.
In his proposal, Jackson offered actionable steps to turn around the Yahoo stock price, including:
Reducing Yahoo's workforce from 11,900 to 2,900 employees
Removing a free food program for employees, a program that has cost Yahoo $450 million over four years
Selling its headquarters
But Jackson's central argument is for the removal of Mayer.
The proposal cites examples where business acquisitions and purchases haven't worked out. It also highlights excessive expenses that had no way of improving Yahoo's bottom line or the Yahoo stock price. For example, Mayer hosted a Wizard of Oz party in 2014, and the photo shoot alone cost $70,000.
But that wasn't even that extravagant compared to Mayer's party this year. Jackson alleges that Mayer spent $7 million for a Great Gatsby-themed party in San Francisco this December.
Jackson makes a strong case for why Mayer should be removed as CEO, but SpringOwl may not have enough of a stake in YHOO stock for the proposal to be executed. SpringOwl has not revealed its stake in Yahoo, but it's only a minority stake.
Jackson's plan also differs from that of Starboard Value LP and Canyon Capital Advisors LLC, two of the largest shareholders of Yahoo stock. These shareholders want Yahoo to sell its Internet business.
But there's a major reason why the YHOO stock price won't rebound in 2016, even if Yahoo follows the plan of its biggest shareholders...