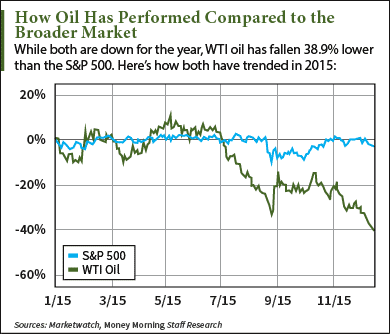 WTI crude oil prices today (Monday) fell 1.1% as futures struggle to trade above $35 a barrel.
At 9:20 a.m., WTI crude oil prices were trading at $35.24. Earlier this morning around 7:30 a.m., the U.S. benchmark tumbled below $35 for the first time since February 2009. Futures are now down 15.4% this month and 41.2% this year.
Brent crude oil prices fared much worse this morning. The global benchmark fell 2.2% to $37.48 a barrel. It has dropped 17.2% so far in December and 43.8% in 2015.
Here's what's dragging down WTI crude oil prices today…
Two Reasons Why WTI Crude Oil Prices Are Down Today
The first factor behind today's decline is OPEC's adamant decision to increase production at its most recent meeting.
On Dec. 4, oil officials from all 12 OPEC countries met to discuss the abysmal state of the oil market. The summit ended with the cartel deciding to raise its output ceiling from 30 million barrels a day to 31.5 million. The call to boost production surprised energy investors and has sent WTI crude oil prices down 11.8% in less than two weeks.
OPEC's strategy has been to produce as much as possible to protect market share and hurt U.S. and Russian competitors – no matter how low prices go. This month's meeting marked the third time since November 2014 that the cartel decided to maintain its stringent strategy.
But there's another reason why oil prices are falling today. And it has to do with a landmark deal that could have a tremendous effect on the future of oil demand…