Investors who spotted one of this week's top penny stocks are now sitting on a gain of more than 100% in the last month alone.
That's why we follow the top penny stocks trading today. They have the opportunity to bring investors triple-digit gains in a very short period of time.
Penny stocks are defined as stocks trading under $5. But at Money Morning, we focus on penny stocks listed on major exchanges like the NYSE and Nasdaq. That's because they carry much less risk than penny stocks that trade over-the-counter or on the Pink Sheets.
Still, penny stock investing involves risks. While penny stocks can bring huge profits, they can also be highly volatile. That's why Money Morning experts advise that penny stocks should only represent a small percentage of any portfolio. One stock should never account for more than 2% of your investing capital.
Here's a look at this week's five top penny stocks and the huge profits they've brought investors…
This Week's Top Penny Stock Movers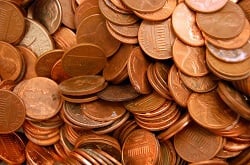 Top Penny Stocks, No. 1: Truett-Hurst Inc. (Nasdaq: THST) is a California company that produces, markets, and sells wines primarily in the United States. The company operates through wholesale, direct to consumer, and Internet segments. It offers its products primarily under the brand names of Truett-Hurst, VML, Healdsburg Ranches, Colby Red, and Bradford Mountain. Products are sold through its tasting rooms and wine clubs, as well as online, through distributors, and through retailers. The holiday season is a key time for THST. Shares now trade at $1.85, which is up 100% in the last month.
Continue reading for four more of this week's top penny stocks…