It looks like the worst is over for the VMware stock price.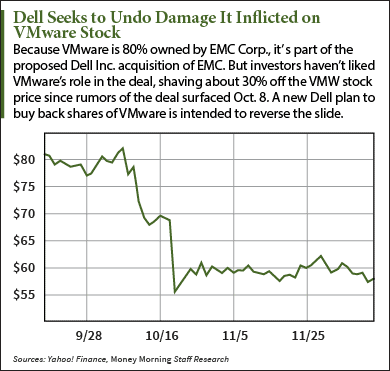 VMware Inc. (NYSE: VMW) stock has suffered in the wake of privately held Dell Inc.'s planned $67 billion acquisition of EMC Corp. (NYSE: EMC).
Wall Street objected to the deal's implications for VMware, shaving about a third of the value from the VMW stock price in just two weeks.
But now Dell is promising to buy back as much as $3 billion in VMW shares to prop up the VMware stock price.
It's the latest chapter in a convoluted tale that started Oct. 12, when Dell announced the merger with EMC, the largest tech deal ever…
Why the VMware Stock Price Has Plunged
The size and complexity of the Dell-EMC merger, and VMware's role in it, created uncertainty for VMware investors. You see, EMC owns 80% of VMware.
Dell said VMware would continue as a separate, publicly traded company, as it has with EMC. Meanwhile, EMC investors are to receive $24.05 a share in cash and 0.111 worth of VMware tracking stock for each share of EMC stock they own.
The "tracking stock" is a special kind of stock that reflects the performance of a business unit within a larger entity. VMware will be that unit within Dell when the deal is expected to close in mid-2016.
EMC investors weren't crazy about the idea of owning tracking shares of VMW stock, which lack the full rights and protections of common shares. EMC stock is down about 7% since the deal was announced.
VMware investors got more bad news just a week later when EMC and VMware said they planned to create a jointly owned company, Virtustream. The joint venture would have saddled VMware with a money-losing business while requiring it to pay out as much as $250 million in capital spending to get the project running.
Yesterday (Monday), under pressure from institutional shareholders, EMC and VMware killed plans for the joint venture. That's taken some pressure off the VMware stock price.
But Dell's disclosure of plans to buy $3 billion worth of VMW stock will have a bigger impact. It shows Dell is worried about the sudden and steep fall in the VMW stock price. And so far the announcement has worked.
At mid-day today (Tuesday), the VMW stock price is up 1.88% to $58.33.
But this activity has raised a key question – what do investors do with VMware stock now?