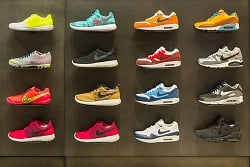 The Nike stock split date has been set for Wednesday, Dec. 23, and through the deal, Nike Inc. (NYSE: NKE) will be providing investors with two shares of Nike stock for every one they already hold.
The stock split is payable to shareholders of record as of the close of business Dec. 9. Shares will begin trading at the post-split price on Dec. 24.
The Nike stock split will increase the amount of both Class A and Class B shares on the market. After the split, there will be 353 million Class A shares and 1.36 billion Class B shares on the market.
This marks the seventh time in Nike's history it has split shares. The last Nike stock split was in December 2012. All Nike stock splits to date have been 2-for-1.
With the split, Nike shares will become much more affordable to investors. A 2-for-1 stock split halves the price of shares. That means Nike shares will trade near $64.69 post-split, based on today's opening price of $129.37.
Yet all investors, whether they own Nike shares or not, should be interested in the Nike stock split…
What the Nike Stock Split Means for the Dow
When the price of Nike shares changes on Dec. 24, Nike's weighting in the price-weighted Dow Jones Industrial Average will be reduced.
That means gains and declines in the index will also likely be reduced…