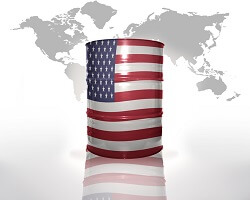 The United States might soon start exporting oil for the first time in 40 years.
CNN Money reported today (Wednesday) the House of Representatives proposed lifting the U.S. oil export ban as part of a broad $1.1 trillion spending bill for fiscal 2016.
The U.S. oil export ban was enacted in 1975 after OPEC instituted an oil embargo. That caused a domestic oil scarcity and pushed prices above $100 a barrel for the first time in history.
The proposed move comes as the United States is drowning in oil supply and ready to cash in on its shale oil boom. After all, U.S. oil inventories stand at an 80-year high of 490.7 million barrels as of last week.
"Restrictions on free trade of energy are a legacy of a bygone era that doesn't reflect the realities of today," said Jason Bordoff, founding director of the Center on Global Energy Policy and former energy adviser to President Obama, at Capitol Hill yesterday.
But energy investors are worried that lifting the U.S. oil export ban would send prices spiraling. With WTI crude oil prices near a seven-year low of $35 a barrel today, investors don't want the oil crash to be exacerbated by any federal policy change.
But what many don't understand is that lifting the decades-old ban would actually lift crude oil prices in the long term…
How Ending the U.S. Oil Export Ban Would Improve Oil Prices
A study commissioned by the Consumers and Refiners United for Domestic Energy (CRUDE) Coalition found lifting the U.S. oil export ban would boost oil prices by at least $3 by mid-2016. In fact, it would increase the cost of all refined products, including gasoline, heating oil, and jet fuel.
Oil exports would increase WTI crude oil prices because they would lower the United States' excess supply at a faster pace. Despite U.S. oil consumption being at its highest level since 2010, it only increased 0.4% from 2014 to 2015. Exporting crude oil would make up for slow domestic consumption and help the long-term price rebound.
But repealing the U.S. oil export ban could also hurt the oil job market, which is reeling from over 100,000 job cuts in the past year. Shipping oil out of the country will lower domestic refinery utilization for gasoline and other products. That would lead to possible refinery closures and more layoffs.
Now the House's tax legislation will be passed to the Senate. To avoid a government shutdown, the House passed a spending bill to fund the government through next week as the Senate takes time to consider the legislation's oil proposal.
Lifting the export ban could mark a milestone few people saw coming. With U.S. oil production up more than 80% since 2008, many experts are coming to terms with the fact that the United States is no longer the oil-dependent nation it was for most of the 20th century.
"Go back seven years, you would not have imagined that there would be a debate about U.S. exporting oil," said Daniel Yergin, vice chairman of research firm IHS Inc. (NYSE: IHS), to The Wall Street Journal.
Check back with Money Morning as we cover the ongoing legislation surrounding the U.S. oil export ban.
Follow us on Twitter @moneymorning or like us on Facebook.
Did Saudi Arabia Just Shoot Itself in the Foot? Low oil prices mean less revenue for OPEC's wealthiest nation – and even though Saudi Arabia has hundreds of billions in the bank, two new developments will chip away at those savings faster than ever…
Related Articles: