Making short-term profits on reliable, long-term patterns is one of the smartest, most profitable moves a trader can make. We make plenty of money with these quick moves - and we can also use these patterns to establish a really lucrative trading strategy.
That's what I have for you today - an opportunity to set a profitable trading plan for 2016.
It's based on a market pattern I first showed you in August - and it's paid off in 74 of the past 75 years. It's called the "presidential pattern" and it's in full swing right now...
Get the Most Out of These Repeating Patterns
The human mind is wonderful at spotting repeating patterns. But it's important - really important - not to get fooled and to use hard data to back up and help establish what you believe to be a pattern. In the case of trading, there's a lot of money at stake - all the more reason to be very sure of what it is you're looking at.
In this case, we can look at simple stock market returns. And the returns tell me that the broad markets are weaker during the first two years of a presidential term and stronger during the last two years of the term.
I believe that there are a variety of reasons for this, but I'm certain it has little or nothing to do with party politics...
A new incoming administration tends to shake things up, to paint in bold strokes, and any new agenda can make waves in the news. The markets simply don't like uncertainty and change, and they respond accordingly.
On the other hand, during the end of a presidential term, a lot of lofty campaign promises start flying around, new public programs are announced, and the party in power takes steps to stimulate the economy in hopes that the public will remember that and stick with their "horse." Markets love sunshine and stimulus.
Just have a look at this simple chart. It measures the performance of the Dow Jones Industrial Average in every election cycle since the Johnson administration.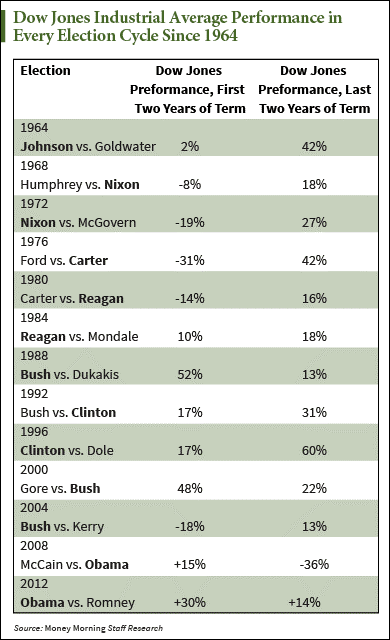 This pattern suggests a very simple, but potentially very profitable, strategy of buying a Dow tracker, like the SPDR Dow Jones Industrial Average ETF (NYSE Arca: DIA), on the first trading day of January in year four of the cycle until the last trading day in December of year four.
With the Dow hovering around 17,500 and the DIA exchange-traded fund (ETF) at 175, it would cost roughly $17,500 to buy 100 shares of this ETF. If we expect a 15% increase over 2016, than we would expect to return 15% to our cost to buy.
That's simple enough, but here's a way to do it for far less money, for far more returns - with far less risk.
Join the conversation. Click here to jump to comments…
About the Author
Tom Gentile, options trading specialist for Money Map Press, is widely known as America's No. 1 Pattern Trader thanks to his nearly 30 years of experience spotting lucrative patterns in options trading. Tom has taught over 300,000 traders his option trading secrets in a variety of settings, including seminars and workshops. He's also a bestselling author of eight books and training courses.