I'm following "Disruptors" because I think they're going to be a huge nexus of wealth creation (and destruction) in the coming years.
They're causing monumental shifts in everything and changing our lives. In the markets, these Disruptors send huge capital caves into new paradigm businesses… and push big capital waves out of adversely disrupted businesses.
Marketplace lending, or P2P lending, is a perfect example of a Disruptor business.
I've written before about the issues marketplace lenders were going to have and how you'd be better off borrowing from a marketplace lending site than investing in any of them.
I don't want to say "I told you so," but I'm being proved right yet again.
Things aren't getting better for investors in what used to be called "peer-to-peer" lending.
So, if you want to get an online loan, go for it - but don't waste your money betting on any of the sites being a home-run investment.
For now, you should keep your capital away from marketplace lenders.
Here's why...
P2P Lenders Aren't Actually Independent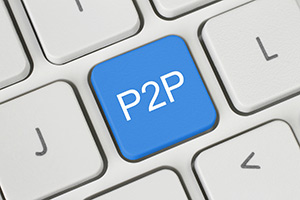 First of all, peer-to-peer lenders aren't banks.
They're Disruptors precisely because they aren't banks, but act like banks.
But just because marketplace lenders aren't banks doesn't mean they're immune from banking regulations. That's because marketplace lenders have bank "partners."
The disruptive side of P2P lenders is upfront. It's in where borrowers go, which is online. It's in how borrower's creditworthiness is profiled, which is largely based on online access to things like payment histories and social media profiles. And upfront it looks like a borrower is borrowing from an online "peer."
That's upfront stuff. The back end of P2P lending is still about banks.
Disruptive P2P lenders need a bank to operate. And that's becoming a problem.
The Dark Side of "Conduit Banks"
You see, P2P lending sites don't make loans. They are simply an online introduction conduit. They're matching rooms where borrowers and lenders "speed date."
When a lender agrees to fund a borrower's loan request online, the actual loan runs through a bank, usually a very small bank, more often than not located in Utah.
Why Utah? Because Utah doesn't have state usury limits or rate caps like other state-chartered banks have.
Tiny Utah-chartered WebBank is the back-end bank of several marketplace lenders, including LendingClub Corp. (NYSE: LC) and Prosper Funding LLC, two of the largest and best-known P2P lending sites.
WebBank acts as the lending bank to the borrower, where WebBank uses the lending "peer's" capital as collateral. If the borrower doesn't pay, WebBank has the peer's capital and isn't at risk.
But conduit banks are coming under increasing scrutiny - as are lending sites themselves - with regard to cutting regulatory corners on customer information, antiterrorism, and anti-money-laundering regulations.
Join the conversation. Click here to jump to comments…
About the Author
Shah Gilani boasts a financial pedigree unlike any other. He ran his first hedge fund in 1982 from his seat on the floor of the Chicago Board of Options Exchange. When options on the Standard & Poor's 100 began trading on March 11, 1983, Shah worked in "the pit" as a market maker.
The work he did laid the foundation for what would later become the VIX - to this day one of the most widely used indicators worldwide. After leaving Chicago to run the futures and options division of the British banking giant Lloyd's TSB, Shah moved up to Roosevelt & Cross Inc., an old-line New York boutique firm. There he originated and ran a packaged fixed-income trading desk, and established that company's "listed" and OTC trading desks.
Shah founded a second hedge fund in 1999, which he ran until 2003.
Shah's vast network of contacts includes the biggest players on Wall Street and in international finance. These contacts give him the real story - when others only get what the investment banks want them to see.
Today, as editor of Hyperdrive Portfolio, Shah presents his legion of subscribers with massive profit opportunities that result from paradigm shifts in the way we work, play, and live.
Shah is a frequent guest on CNBC, Forbes, and MarketWatch, and you can catch him every week on Fox Business's Varney & Co.