A few years back I got asked what, if anything, I like about penny stocks during a standing room only presentation at an investing conference in Florida.
"You mean aside from the fact that most have no proven track record, little or no assets, hardly any operations history, low prices that make them ripe for manipulation, and products that haven't been tested in the market place?" I quipped with a smile.
My audience chuckled nervously, not sure at first where I was going with my answer; penny stocks are very popular, and the dream of finding the next great Microsoft, Facebook, or Netflix is alive and well in the minds of millions.
But, then, they relaxed when I explained that finding successful penny stock investments is no different than finding other great investing opportunities... if you know what to look for and have the right risk tolerance and perspective.
That's what we're going to talk about today for the simple reason that tiny micro-cap companies - penny stocks by any other name - can be fabulously profitable over time when done right.
And that, of course, is the allure.
Here's what to look for when trying to find the most promising penny stocks.
Penny Stocks' Potential for Fraud Is Written into SEC Regulations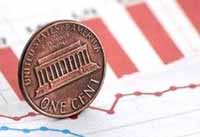 First a little background.
The U.S. Securities and Exchange Commission generally categorizes penny stocks as the shares of any company trading at $5/share or under and having a capitalization anywhere from $50 million to $300 million. Sometimes the cut is $1 to $3 a share, depending on the definition.
Typically, most of these companies have such small market capitalizations that they don't meet the standards needed to trade on major exchanges like the New York Stock Exchange or Nasdaq, for example. Most are, as a result, traded in so-called "over-the-counter" exchanges (OTC), meaning the stock is sold by and to individuals connected by phone or computer networks.
If you've ever heard the expression "pink sheets," this is sometimes used interchangeably. Over-the-counter trades - OTC for short - used to be written on pink sheets of paper.
Here's where it gets tricky.
It's tough enough to find accurate information about bigger, more established companies when it comes to investing. But it's a whole lot more problematic for small caps.
That's because OTC companies don't have to meet the same SEC-mandated financial reporting standards as their larger, more established peers. The requirements for timely reporting, among other things, leaves a lot to be desired. So do auditing stipulations.
Not surprisingly, this makes OTC stocks an attractive vehicle for fraudsters, who will often breathlessly lobby unsuspecting investors over the phone, spinning a narrative of a tiny company that's poised for tremendous upside. Pump-and-dump scammers don't help because of their false and misleading actions.
That's where many investors get into trouble.
They figure the potential for higher rewards makes the exposure worth it, so they pile into penny stocks without much thought. After all, they reason, if a stock is trading at $0.10/share, it just requires a small push to bump it up to $0.15/share - a rapid 50% gain!
What they're missing is that the same penny stock can just as easily move in the wrong direction, trading at $0.10/share the day they buy it and $0.05 the next. And the 50% loss is even worse than it appears, because penny stocks tend to have far less liquidity than their bigger brothers. So price moves can be far more rapid and jagged than many people expect.
There are ways around this, though, and we talk about those all the time, including the need for specific company research, position sizing (the tactic of only allocating a small percentage of your capital to any investment, to reduce the chance of a catastrophic loss), and dollar-cost averaging, among other things.
But most of the time, you're better off simply not taking the risk in the first place.
How do you know which companies are "worth it"?
Fortunately, the answer is not as difficult as you might imagine...
Join the conversation. Click here to jump to comments…
About the Author
Keith is a seasoned market analyst and professional trader with more than 37 years of global experience. He is one of very few experts to correctly see both the dot.bomb crisis and the ongoing financial crisis coming ahead of time - and one of even fewer to help millions of investors around the world successfully navigate them both. Forbes hailed him as a "Market Visionary." He is a regular on FOX Business News and Yahoo! Finance, and his observations have been featured in Bloomberg, The Wall Street Journal, WIRED, and MarketWatch. Keith previously led The Money Map Report, Money Map's flagship newsletter, as Chief Investment Strategist, from 20007 to 2020. Keith holds a BS in management and finance from Skidmore College and an MS in international finance (with a focus on Japanese business science) from Chaminade University. He regularly travels the world in search of investment opportunities others don't yet see or understand.