Volkswagen AG (OTCMKTS ADR: VLKAY) made some drastic changes to its senior management team today (Thursday), and the Volkswagen stock price is up 0.4% on the news.
The embattled German automaker announced it reduced the number of managers directly reporting to CEO Matthias Muller by almost half. It also added five new members to his executive team.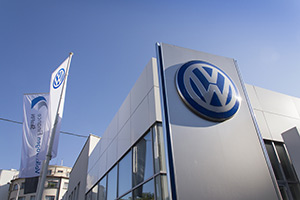 Volkswagen said the structural changes will "speed up the decision-making process, reduce complexity, and increase efficiency."
VW's five new managers reporting to Muller will step into their roles next year. One of the biggest additions is Ulrich Eichhorn, managing director of German automotive industry association VDA, who will head research and development. Another noteworthy addition is Fred Kappler, head of VW group services, who will take over group sales.
The sweeping changes come as the beleaguered auto giant continues a company-wide overhaul following the global emissions scandal that continues to unfold.
But these executive changes won't be enough to lift the Volkswagen stock price through 2016...
Why the Volkswagen Stock Price Will Keep Falling in 2016
In September, Volkswagen admitted that as many as 11 million of its diesel vehicles worldwide had software that could cheat nitrogen oxide emissions tests.
The company will need to recall some 500,000 cars in the United States and about 8.5 million in Europe.
Earlier this month, it was also revealed that VW withheld information from U.S. regulators long before the diesel emissions scandal was made public in September.
The automaker's U.S. environmental compliance employees notified their superiors in Germany in 2004 that they believed Volkswagen needed to alert regulators about a faulty emissions part on dozens of cars from Volkswagen's Audi unit.
But no action was taken.
Now global regulators are stepping up their investigations into VW's deceptive practices. And that will continue to have a major impact on the Volkswagen stock price...