When hedge fund manager Bill Ackman warned his shareholders Tuesday that 2015 would likely be his worst ever, most investors probably had the same reaction: "I'm glad I don't have any money with that guy."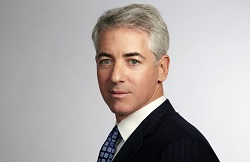 But celebrity investors like Bill Ackman – who has built a reputation as one of the top activist investors – tend to have a following. A lot of investors derive inspiration from such celebrity investors, following their every move.
For a select few celebrity investors, such as Warren Buffett, that strategy can work. Buffett in particular, with a buy-and-hold philosophy that focuses on large, stable companies, is an excellent role model for investors.
But most of the well-known hedge fund managers and activist investors take the kind of big risks that average investors should avoid. While they may have stunning successes, they also have spectacular failures.
Bill Ackman's past two years are the perfect illustration of this.
Why Bill Ackman Had a Disastrous 2015
In his letter to his Pershing Square shareholders, Ackman confessed that the fund was down 20.8% through November.
"If the year finishes with our portfolio holdings at or around current values, 2015 will be the worst performance year in Pershing Square's history, even worse than 2008 during the financial crisis," Ackman wrote.
Pershing Square fell more than 12% in 2008.
One reason Bill Ackman had such a lousy year was his big bet on a single stock: Valeant Pharmaceuticals International Inc. (NYSE: VRX).  Ackman has a 9.9% stake in Valeant, which comprises about a quarter of his holdings.