What is a Santa Claus rally? It's a question we hear every December as the media talks about a possible stock market rally at the end of the year.
A "Santa Claus rally" is loosely defined as a rally in the stock market in the weeks before Christmas and into the new year. Traditionally, the Santa Claus rally has occurred between Dec. 15 and Jan. 6.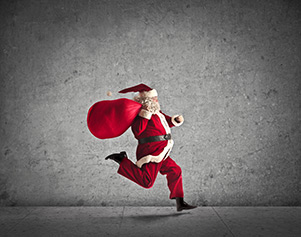 Since 1950, the S&P 500 Index has gained an average of 2.13% during this year-end stretch, and was profitable 80% of the time, according to the Stock Trader's Almanac. The Nasdaq Composite has enjoyed similar successes, gaining an average of 3.17% during the period since 1971.
But the best returns have come from the small-cap Russell 2000 Index.
The small-cap benchmark has gained an average of 3.63% between late December and early January since 1987, and was profitable 89% of the time.
The sector with the best performance over the last 25 years between Dec. 15 and Jan. 6 is materials. Significant gains have also been logged by energy, industrials, and financials. Consumer staples has been the worst performing sector, with an average gain of just 0.62% during the Santa Claus rally period.
One of the biggest reasons for the Santa Claus rally is the burst of special dividends and increased share buybacks that are frequently announced before the end of the year.
Additionally, "window dressing" usually helps lift stocks in December. Mutual funds and money managers are inclined to polish their portfolios before the end of the year. They'll buy winners and shed underperformers. This activity drives volume and sends stocks higher.
Plus, many Wall Street bonuses are received before Christmas or early in the new year, and tend to be invested right away.
However, a 2015 Santa Claus rally could be tripped up by the U.S. Federal Reserve...