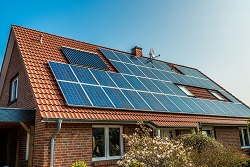 The SolarCity Corp. (Nasdaq: SCTY) stock price rose nearly 10% to $58.60 intraday today (Thursday). After today's gain, the SCTY stock price is now up more than 58% in the last week.
Solar and wind companies have been in focus this week after U.S. lawmakers voted to extend lucrative subsidies for renewable energy on Tuesday.
Tax credits for new power projects like wind turbines and solar panels have fueled the rapid expansion of renewable energy in the United States. However, the solar subsidy was set to significantly shrink at the end of 2016.
The environmental tax credit extensions were part of the $1.15 trillion federal spending bill, which prevented a government shutdown and also lifted the antiquated 40-year-old U.S. oil export ban. The House and Senate still have to pass the bill, and President Barack Obama must sign it into law.
The legislation allows solar power companies to continue claiming federal tax credits at 30% of the price of a solar panel. The credits apply to both home solar kits and big commercial installations. The credits last through 2019. The credits then begin to gradually drop. By 2022, the solar credit will have fallen 10%, where it will remain.
Homeowners who buy solar panels get the credits. If they lease solar equipment from providers like SolarCity, the tax credits go to whoever finances the home installation projects, like banks.
Additionally, solar companies will be able to take advantage of a tax credit in the year construction begins on solar projects. They don't have to wait until the projects are completed.
The news sent the Solar City stock price surging 34% to $53.69 on Tuesday alone.
Here's what next for the SCTY stock price...