Many of the leading Election 2016 candidates love to draw lines between themselves and their opponents. Some of the major differences between these candidates - besides their policies - are their campaign strategies.
All of the top Election 2016 candidates try to shape their campaigns to attract different types of voters. Many of these strategies have already proven successful, propelling some of these most popular candidates to the top of the polls. Other leading candidates are adapting to address weaknesses in their campaign strategies.
Here's a look at the tactics Election 2016 candidates Trump, Cruz, Clinton, and Sanders are using to grab the nomination.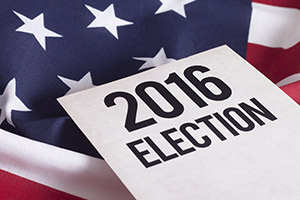 Election 2016 Candidate Campaign Strategies: Donald Trump
Republican presidential front-runner Donald Trump is the most aggressive of the Republican pack. He's frequently on the attack, yet insists that he only attacks when provoked.
He shares a mutual contempt with the media, but uses it often to his own advantage. Trump's command of the media is a result of his abrasive, candid personality and deliberate positioning. Whenever the cameras are on, Trump puts on his best show.
Trump gets 25% more media attention than the rest of the GOP field combined, according to the New Analytics Company. Trump has also received more airtime than the entire Democratic field combined, according to The Washington Post.
Trump's campaign "ads" consist of Instagram videos posted to his Twitter account. And speaking of Twitter, Trump loves the social media platform. He boasts over five million followers on his Twitter handle.
Trump appeals to anti-establishment Republicans frustrated with a lack of action from their elected officials. Trump has spent a nominal $2 million on his campaign, according to an MSNBC report in October. He's funding his campaign with his own money and donations and has not taken any money from special-interest groups, according to Politico.
Trump frequently boasts about his "great energy" and "stamina," saying that he averages four hours of sleep per night. He notes that this kind of drive is what is needed in the White House. On Dec. 12, Trump released his health report on Facebook, where his doctor wrote that he would be the "healthiest individual ever to be elected as president."
Social media and the collective mainstream media have given Trump incredible exposure to voters this election season. And whenever that attention seems to wane, Trump unveils another controversial policy. His most recent one was about temporarily banning Muslims from entering the United States. Minutes after his campaign released this policy, the media's attention was refocused back on Trump.
Trump relies on ad-hominem attacks to take down his opponents. Consider his "low-energy" epithet he attached to Republican presidential candidate Jeb Bush. That seemingly harmless slight stuck with Bush, who has been mired in the single digits in all polls. The media hounds are always eager to lap up Trump's name-calling. In fact, they helped spread Trump's low-energy comment about Bush (frequently including it in headlines).
Another example of this strategy was when Trump called Republican presidential candidate Marco Rubio a "lightweight." Trump meant the term to deride Rubio for his youth and political inexperience. Again, it was a seemingly innocuous insult, but one that has stuck with Rubio for most of the Election 2016 race.
Continue reading for an in-depth analysis of the other leading Election 2016 candidates' campaign tactics.