The Apple stock price got a small bump from the patent deal with Ericsson (Nasdaq ADR: ERIC) today (Monday) – but a bigger benefit is coming a couple of years down the road.
At first glance it looks like Swedish telecom equipment maker Ericsson made out better in the seven-year deal with Apple Inc. (Nasdaq: AAPL), which ends a yearlong dispute.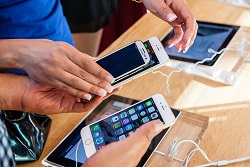 Apple agreed to pay Ericsson to license its 2G, 3G, and 4G-LTE technology in its iPhones and iPads. The deal is global and settles issues with the earlier technologies, as well as setting terms for the use of the current 4G-LTE standard.
Ericsson said Apple will pay an initial amount followed by ongoing royalties. Further details were not disclosed.
Investment bank ABG Sundal Collier estimated that Ericsson will end up with about 0.5% of Apple's iPad and iPhone revenue.
I did the math to find out what that means for Ericsson. Based on that figure and fiscal year 2015 iPhone revenue of $155.1 billion and iPad revenue of $23.2 billion, the deal puts about $892 million into Ericsson's pocket annually.
If true, the deal would boost Ericsson's intellectual property 2014 revenue of $1.163 billion by about 75%. However, the company is projecting 2015 IP revenue of $1.52 billion to $1.64 billion, suggesting Ericsson isn't getting quite that much. But even half of Collier's estimate would add $446 million of IP revenue per year.
That's why Ericsson stock shot up as much as 7.23%, to $9.79, in early trading today.
But in pre-market trading, the AAPL stock price rose as well – as much as 1.74% to $107.88. The Apple stock price went flat on the day by midmorning, falling in tandem with the broader market.
Still, it begs the question: Why would the AAPL stock price go up in the wake of news of a patent settlement that has the company forking over millions of dollars a year?
Here's what Apple gets out of the Ericsson patent deal…