If you're anything like me, chances are you love to read. And if you're not, I hope you pick up the "habit."
Why?
Simply because what you do every day has a major impact on your wealth.
Reading, in particular, is a "rich habit," according to author Thomas Corley, who spent five years studying the lives of rich people and poor people as part of his research for "Rich Habits: The Daily Success Habits of Wealthy Individuals."
I can't say I disagree.
Reading provides three key elements successful investors need: mental stimulation, knowledge, and stress reduction. All help you form new brain pathways called synapses while strengthening existing mental connections.
Today I've got eight investing books for you that I think you're going to like as much as I do. Every one of which can help you get a profitable head start on 2016.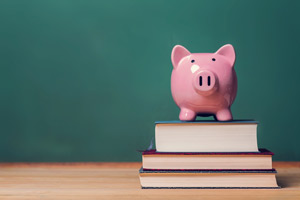 Let's get started.
Studies show that nearly 70% of rich people set daily, monthly, and annual goals. What's more, they complete 70% of the tasks they set out for themselves daily.
According to Corley, more than 88% of rich people read at least 30 minutes a day for the purpose of self-improvement. That stands in stark contrast to just 2% of poor people.
The way I see it, reading is a big part of success because you have to sort out everything from vocabulary to context. If you've ever solved a mystery or figured out a plot before turning the page, for example, that's because your mind is working on connections that, many times, are totally invisible to your conscious thought.
I find that to be a compelling idea - every page I turn adds to knowledge that can never be taken away from me.
Especially when it comes to the financial markets.
It took me years to figure that out and, now that I have, I know that I'm better equipped to find new opportunities and handle any challenge the markets can throw at me.
I want you to have the same advantage.
So pull up a chair, grab your favorite libation, and settle in around the fireplace this holiday season.
You might be surprised just how "profitable" reading can be.
Here are my favorite investment books to read and share in 2016... for starters.
8 Investing Books to Read in 2016
Yves Smith: "Econned"
Initially published in 2010, this book offers a devastatingly clear look into the world of high finance and modern economics most people take for granted. If you've ever wondered what really happened in 2007 and want to go beyond the pabulum,this is a terrific read, albeit a serious one.
George Samuel Clason: "The Richest Manin Babylon"
A 1926 classic, this entertaining book highlights simple, easy to understand wealth-building lessons through the eyes of merchants, herdsmen, and other denizens of ancient Babylon. I like this book because it's a reminder that,despite the exponentially more complicated world we live in today, the most important wealth-building principles are timeless.
Marc Lichtenfeld: "Get Rich with Dividends"
This is one of the most compelling books I've ever seen about the power of dividends in your portfolio and, as far as I'm concerned, a fabulous read,too. Easy to understand and comprehensive, you'll get a good look at something most investors miss.
Sir John Templeton: "Golden Nuggets"
Sir John Templeton is widely regarded as one of the most successful investors of all time. Every $10,000 invested with him in 1954 when he created the Templeton Fund was ultimately worth more than $3 million when he retired in 1992. This book is a collection of sayings and perspectives he favored.
Zac Bissonette: "How to Be Richer, Smarter, and Better-Looking Than Your Parents"
A fabulous read for anybody who's heading out into the world for the first time, Bissonette puts the FUN in today's dysfunctional world. I like the fact that he's a millennial and makes no bones about taking a disciplined path towards controlling your money. And I'll forgive him for thinking you can't beat the markets.
[mmpazkzone name="in-story" network="9794" site="307044" id="137008" type="4"]
Barry Ritholtz: "Bailout Nation"
Brash, unapologetic, and wonderfully written, this book will take you on a nemotional ride while highlighting a history lesson no investor should be without.
Charles Mackay: "Extraordinary Popular Delusions and the Madness of Crowds"
Originally published in 1841, I like the Kindle edition because it comes in two complete volumes. Some people say it's dated, but ironically those are the same people who think "it'll be different this time."
Richard Bernstein: "Navigate the Noise: Investing in the New Age of Media and Hype"
You'd think the Internet would make investing easier but, in fact, the age of massive and instant information access is creating a near useless stream of "noise." This book lays out many of the same principles we talk about when itcomes to sorting through it profitably.
What did I miss?
Have you got some favorites you'd like to share?
I hope so.
So, step away from the keyboard, shut down the monitor, and grab a book. Chances are you'll be far more profitable this year for having done so.
Follow us on Twitter @moneymorning or like us on Facebook.
Editor's Note: Keith chose these books specifically for the market insights and financial lifestyles they promote that go a long way towards building Total Wealth - but even a long list of books only scratches the surface of what there is to know. That's why he's created a free e-letter, Total Wealth, which publishes two articles a week to point out profit opportunities or wealth-building tactics for its readers. To subscribe to Total Wealth, sign up here.
About the Author
Keith is a seasoned market analyst and professional trader with more than 37 years of global experience. He is one of very few experts to correctly see both the dot.bomb crisis and the ongoing financial crisis coming ahead of time - and one of even fewer to help millions of investors around the world successfully navigate them both. Forbes hailed him as a "Market Visionary." He is a regular on FOX Business News and Yahoo! Finance, and his observations have been featured in Bloomberg, The Wall Street Journal, WIRED, and MarketWatch. Keith previously led The Money Map Report, Money Map's flagship newsletter, as Chief Investment Strategist, from 20007 to 2020. Keith holds a BS in management and finance from Skidmore College and an MS in international finance (with a focus on Japanese business science) from Chaminade University. He regularly travels the world in search of investment opportunities others don't yet see or understand.