The Twitter stock price is down 3% in mid-afternoon trading today (Monday) and is now down 37.89% for the year.
It's a drop that we saw coming, even when Wall Street was sending the Twitter stock price higher in early December...
On Dec. 10, Twitter Inc. (NYSE: TWTR) announced that it would start monetizing logged-out users. When logged-out users click on a tweet that appears in a search engine, for example, they may see ads on the Twitter page for that tweet, according to re/Code.
Wall Street overreacted, driving the TWTR stock price up to an intraday high of $26.25 on the day of the announcement before closing up nearly 7% at $25.91.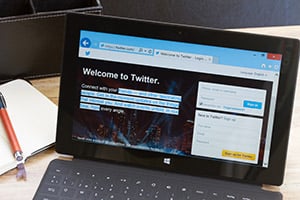 But now the Twitter stock price is correcting itself, and the rest of the trading world is joining us in our bearish Twitter stock price prediction for 2016...
You see, it's important to understand why Twitter monetizing logged-out users isn't as impressive as it sounds. One of Money Morning Defense & Tech Specialist Michael A. Robinson's biggest investing tips is that investors need to separate the signal from the noise when evaluating stocks.
Right now, the noise is that Twitter is adding another source for revenue growth. But the signal is that this isn't a major catalyst for Twitter and it won't lift the Twitter stock price in 2016.
The first sign the Twitter stock price won't improve is that the monetization of logged-out users is just initially for desktop users. As of April 2014, The Wall Street Journal reported that 86% of Twitter users accessed Twitter through a mobile device. That means Twitter will only be monetizing roughly 14% of all logged-out users.
Plus, COO Adam Bain has stated that ads served to logged-out users have only half of the value of ads seen by logged-in users, according to Forbes.
And that's not the only reason the new strategy may not pay off...
Twitter previously reported in its U.S. Securities and Exchange Commission filing that 5% of all accounts on Twitter were fake, according to NBC News.
But Italian security researchers Andrea Stroppa and Carlo De Micheli found that nearly 9% of Twitter accounts were fake in the summer of 2013, according to The Journal.
These fake accounts will not contribute to the monetization of logged-out users. Twitter has not addressed that issue yet.
While these new issues have us bearish on the Twitter stock price, it's not the only reason we see Twitter stock reaching new lows in 2016...