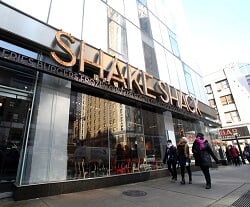 The Shake Shack stock price is up 2.4% in early trading today (Tuesday), but SHAK is still down 16.76% on the year.
It's a drop that we saw coming, even when SHAK stock was presented to investors as the darling of Wall Street...
Shake Shack stock has been heavily hyped since its IPO on Jan. 29. Early investors had what entrepreneur Mark Cuban calls FOMO (fear of missing out), and trading volume hit an incredible 16 million shares on its first day. That drove the Shake Shack stock price up 119% on its first day of trading alone.
But retail investors weren't the ones who banked huge gains that day...
You see, only banks and large investors had the ability to purchase Shake Shack stock at the $26 IPO price. Retail investors had to buy in at the inflated opening price of $47 when SHAK was first publicly traded.
Hype alone is what drove the Shake Shack Inc. (NYSE: SHAK) stock price up, and it's why Money Morning Chief Investment Strategist Keith Fitz-Gerald warned readers in July that the company had an inflated valuation that it could never live up to.
"What's happening with Shake Shack is a very serious warning that the markets have become frothy and that investors are chasing hot ideas rather than results," Fitz-Gerald explained back in July.
And the company's forward price/earnings (P/E) valuation, which is a measurement comparing current earnings to future earnings, shows just how overvalued SHAK stock is. Shake Shack's 100.1 forward P/E valuation is almost five times higher than McDonald's Corp.'s (NYSE: MCD) 21.9 P/E ratio.
Shake Shack also only has a market cap of $1.41 billion compared to McDonalds' market cap of $107.41 billion.
But the overinflated valuation is just one cause of concern for current SHAK shareholders.
You see, there is a much bigger reason why the Shake Shack stock price will continue to fall into 2016...