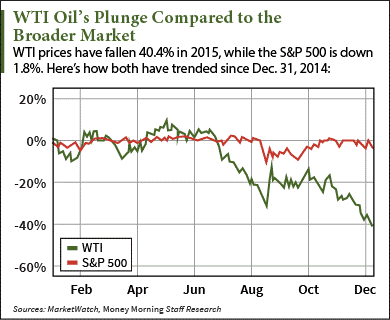 WTI oil prices edged 0.6% higher today (Tuesday) after the U.S. benchmark sank below $34 a barrel yesterday for the first time since 2009.
At 10 a.m. today, WTI oil prices were trading at $36.02 a barrel. On Monday, January WTI futures contracts fell below $34 intraday but settled higher at $34.74 before contracts expired and rolled over into February. Prices are now down 40.4% in 2015 and 16.2% in December.
Brent crude oil prices are having an even worse week. This morning, the global benchmark fell 0.4% to $36.68 a barrel. Prices closed at $36.35 yesterday, their lowest settlement since July 5, 2004. They're down 45.5% this year and 19.9% this month.
The main reason for the boost in WTI oil prices today is the rollover of January futures contracts into February. Investors rushed to buy February futures this morning in hopes that February's harsh winter weather will boost demand by slowing down refineries or increasing heating oil use.
But another factor fueling today's rise in WTI oil prices is the U.S. government's decision to lift the oil export ban. On Dec. 18, the ban was repealed as part of a $1.2 trillion spending bill that will fund the government through September 2016.
According to Money Morning Global Energy Strategist Dr. Kent Moors, ending the oil export ban will help the United States compete against OPEC. That's because it will significantly strengthen private U.S. oil companies over the long term by giving them a profitable edge over government-owned oil firms in OPEC countries. After all, the United States doesn't have a centrally determined oil strategy like OPEC nations do.
"Instead, [the U.S.] leads the world in what can be accomplished with private property and profit incentive, with a fair amount of entrepreneurial skill for good measure," Moors explained last week. "That will be the difference in a master fight of global proportions just getting under way in the energy sector."
But that's not the only reason why the export ban was repealed. In fact, there are four very real reasons behind the end of the 40-year-old ban - and some of them may surprise you...
Alex McGuire is an associate editor for Money Morning who writes about energy. Follow him on Twitter for all the biggest oil and gas updates.
Like us on Facebook: Money Morning