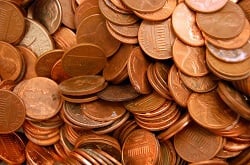 Investors are always on the hunt for the best penny stocks because they can post triple-digit profits in a short period of time.
But many investors are not aware of the risks that come along with looking for the best penny stocks…
While penny stocks can bring huge profits, they can also bring big losses and high volatility. That's why Money Morning experts advise that penny stocks should only represent a small percentage of any portfolio. And one stock should never account for more than 2% of your investing capital.
Money Morning Chief Investment Strategist Keith Fitz-Gerald says the key to finding the best penny stocks in 2016 is no different than finding other great investing opportunities. You need to know what to look for and have the right risk tolerance and perspective.
And more than anything, you need to know about the three most common traps to avoid when looking for the best penny stocks.
Here's what to watch out for…
How the Find the Best Penny Stocks: Avoid Noncommittal Management
Check out the penny stock's 10-K when you do your pre-investment research. A 10-K is a periodic report required by the U.S. Securities and Exchange Commission that details a company's financial performance.
Every 10-K report contains comprehensive information on a company's history, equity, shares outstanding, holdings, and subsidiaries. Fitz-Gerald typically searches for executive compensation and begins his research there.
A penny stock executive with an all-cash compensation package and no options or vesting is trap No. 1, according to Fitz-Gerald.
"It tells me that there's very little alignment," Fitz-Gerald said. "Worse, it suggests management has no faith in the company's long-term outlook and is using the corporate treasury as a slush fund to maximize his or her earnings even if the company goes up in flames. My experience suggests that there's a direct correlation between CEO pay and performance – the more they get, the worse their companies do."