Last week, Barron's recommended that investors start buying beaten-up junk bond funds that are trading at big discounts and yielding 10% or more.
Their advice: "Take advantage of this rout in risky debt."
Not so fast!
It is certainly true that a number of closed-end junk bond funds are trading at big discounts and also paying big dividends. Part of the reason for this is that the already weak market in junk bonds was spooked by the liquidation of the Third Avenue Focused Credit Fund (MUTF: TFCVX), a junk bond mutual fund. (That was huge news. Here's my take if you missed it.) This led to an even sharper sell-off in junk bonds that pushed the prices of the bonds themselves, as well as many closed-end funds that own them, to prices that may not reflect their intrinsic value.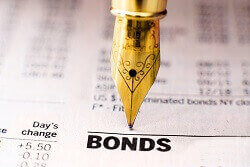 But there's a big problem with this Barron's advice.
The problem is that terrible market conditions, artificially low interest rates, and a weak U.S. economy make it difficult to determine precisely what the intrinsic value of the bonds themselves or the funds that hold them really is.
I think the high-yield market is beginning an extended period of losses that will continue through at least 2018. Closed-end funds certainly pay high dividends but are unlikely to see much improvement in their net asset values (NAVs), since bond prices are unlikely to begin improving until the market bottoms in 2017 or 2018.
Furthermore, the default cycle is likely to pick up considerably in 2016 and the next two years, which means that many of the bonds held by these funds will stop paying interest. This will impair the dividend-paying ability of these funds. It may not happen immediately, but by late 2016 and 2017, it could become a serious problem leading to NAV erosion and dividend cuts.
The dynamic of the high-yield bond market is as follows…
Join the conversation. Click here to jump to comments…
About the Author
Prominent money manager. Has built  top-ranked credit and hedge funds, managed billions for institutional and high-net-worth clients. 29-year career.