The Lone Star state is well on the way to repatriating its gold from a New York bank vault to its own Texas Gold Depository.
The first batch of gold destined for the new depository likely will be about 5,600 gold bars owned by the University of Texas Investment Management Company. The bars, valued at about $600 million, currently are stored in a vault at HSBC Bank in New York.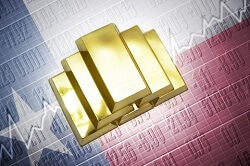 And it's not just state-owned gold that will reside there. Texas residents will also be invited to store their precious metals at the depository (for a fee, of course).
The state also plans to use the Texas Gold Depository to create an alternate currency system – a system that will operate outside the jurisdiction of the U.S. Federal Reserve. This state-based system will allow Texans to use their deposits to pay for things, most likely by using Bitcoin's blockchain technology.
Such a plan is not illegal, but it's certainly unusual.
"This is the first of its kind in the world," said Anthem Blanchard, CEO of online precious metals retailer AnthemVault. Blanchard's company is one of about a dozen competing to be the firm that manages the Texas Gold Depository and its services. "Texas wants to show there are other ways to do things that are sustainable."
AnthemVault is a precious metals retailer based in Las Vegas. AnthemVault also has experience linking gold and digital currencies through something it calls HayekGold.
AnthemVault has proposed building multiple vaults throughout Texas to house the gold. Blanchard would also like to play a major role in setting up the digital payment system.
But all of this effort and expense – the original 2013 bill estimated the cost of building a vault system at $23 million – raises the question of whether it's worth it.
The supporters of the Texas Gold Depository think so – and here's why…