The Nike stock price was up 1% today (Wednesday) by 9:45 a.m. following the company's 2-for-1 stock split. A 2-for-1 stock split halves the price of shares, which is why the Nike stock price looks so much lower today.
The Nike stock price jumped nearly 3% after hours Tuesday and was flirting with an all-time high of $135.30 following solid fiscal Q2 2016 results.
The leading athletic apparel company posted earnings per share (EPS) of $0.90. That beat consensus estimates of $0.86. Revenue came in at $7.69 billion, slightly short of the expected $7.81 billion. But both figures easily topped the EPS of $0.74 on revenue of $7.38 billion earned in the same quarter a year earlier.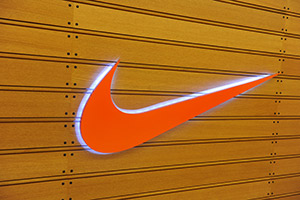 Nike Inc. (NYSE: NKE) said that future orders for footwear and apparel from December 2015 to April 2016 were 15% higher than they were for the year-ago period.
Here's what is next for the Nike stock price following today's Nike stock split…
What's Next for the Nike Stock Price in 2016
Nike is one retailer that could outperform this holiday season and into the next year, according Piper Jaffray senior analyst Erinn Murphy.
Thanks to brand strength and product innovation, Nike has become the leader in the growing sports and athleisure wear industry.
Over the last five years, Nike has logged revenue growth of 10%. CEO Mark Parker, Fortune's 2015 Businessperson of the Year, recently said Nike expects its sales growth to be even higher over the next five years.
Nike also continues to align its brands with the biggest sports stars in order to drive sales.
And Nike traditionally turns in a stellar performance during global sporting events. The 2016 Summer Olympics take place next summer in Rio de Janeiro, boosting Nike's presence and appeal.
Nike is also launching a "new generation" line of shoes in 2016. A number of Nike-sponsored athletes have already started wearing the footwear, fueling sales and growth.
And the growing industry isn't the only reason to be bullish on the Nike stock price in 2016…