This month marks the 20th anniversary of a turning point in the history of tech investing.
Mary Meeker and Chris DePuy were analysts at Morgan Stanley in the fall of 1995 when they issued their landmark "Internet Report." In it, they showed how the web would transform the entire economy while making fortunes for savvy investors.
Because Morgan Stanley was the firm behind the wildly successful Netscape Communications initial public offering, investors clamored for a copy.
Demand was so intense that in December 1995, the "Internet Report" was officially released in book form and quickly became a best seller.
The "Report" turned out to be prescient, indeed. It not only foresaw the way the web would become a high-tech and economic force, but also foreshadowed the Mobile Revolution we're living through today.
However, one thing Meeker and DePuy didn't see coming was the rise of what I call the New Internet "Dream Team" - a quintet of firms that dominate key segments of a market sector worth a combined $2.6 trillion.
And today, I'm going to show you the first two players on this team - and why each is a great foundational play for 2016 and beyond...
Three Tech Investing Cash Cows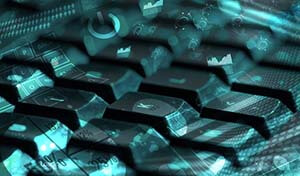 The World Wide Web has come a long way since the 1990s when it was used mostly to surf the Internet for information.
And since that time, three web-based sectors in particular have become cash cows for tech investors.
Take online shopping. According to eMarketer, global consumer e-commerce sales will hit $1.7 trillion this year. And the forecasting firm is projecting that e-commerce will grow nearly 40% in the next three years, reaching roughly $2.4 trillion.
Next, consider how the Mobile Revolution has paved the way for wireless shopping and mobile advertising, two fields that basically didn't exist until June 2007, when the iPhone from Apple Inc. (Nasdaq: AAPL) made its debut.
Goldman Sachs believes that 535 million global consumers will make mobile purchases in 2015 and that the year will see more than $600 billion in wireless commerce.
To assess the impact of mobile shopping, look no further than this year's Christmas sales. Wal-Mart Stores Inc. (NYSE: WMT) says that since Thanksgiving, about half of its online orders have come from mobile devices, almost double the number from that same period in 2014.
There's a third Internet sector investors need to track. That's cloud computing, which refers to the family of devices and software that makes it possible for companies to access data and applications that are "hosted" for them at remote centers and delivered to them over the web.
As recently as 2008, this niche was worth barely $6 billion. But in 2014, cloud revenue clocked in at $75 billion. And Forrester Research forecasts that this segment will be worth $150 billion by 2020.
That's 2,400% growth in just over a decade.
The segments we just looked at - e-commerce, mobile advertising, and cloud computing - are now mature, target-rich sectors.
And five high-tech global leaders in particular form a "Dream Team" that is perfectly positioned to collect a huge portion of the riches the New Internet economy now provides.
Let's take a look at our first two team members now...
[mmpazkzone name="in-story" network="9794" site="307044" id="137008" type="4"]
Dream Team Player No. 1: Facebook
A lot of investors initially wrote off Facebook Inc. (Nasdaq: FB) as nothing more than a passing fancy. After all, how big could this strange new thing called "social networking" really become?
But something much bigger was going on behind the scenes. Facebook was always intended to be more than a community of folks who used their online accounts to "like" other people or to post pictures of their kids and pets.
CEO Mark Zuckerberg was always out to make his company into a massive global force.
He began with a simple idea: Once folks' friends were on Facebook, they'd feel compelled to be there, too. And that idea made possible the engine that drove Facebook - "viral" growth.
At first that idea looked like a long shot. After all, despite a rapidly growing user base, Facebook's 2007 sales barely exceeded $150 million.
But Zuckerberg's instincts were spot-on.
Facebook is now a go-to leader in mobile advertising, a fact that has helped the company generate billions in cash flow and expand its empire.
According to the company, mobile ads for the September quarter accounted for 78% of advertising revenue, up 18% from 66% last year. Facebook's total sales may approach $25 billion by next year.
Here's why the firm's advertisers are smiling:
Facebook now has 1.55 billion monthly active users. That's bigger than the entire population of China.
Twenty percent of all mobile web surfing takes place on either Facebook or its Instagram subsidiary.
Forty-five million small- to medium-sized businesses now maintain a Facebook page, a fact that gives the company free advertising by making its corporate logo ubiquitous.
More than 8 billion videos are watched every day on Facebook, a number that has doubled in less than six months.
Zuckerberg is using his excess cash to build a business that can grow even more in the years ahead. In just the last few months, he has acquired firms that are active in video compression, speech recognition, and computer vision.
In 2016, Facebook is set to release its first piece of consumer hardware, Oculus Rift. It's a virtual reality headset that could provide an entirely new advertising platform for the company.
Dream Team Player No. 2: Alphabet
Few companies ever dominate their core markets the way Google does.
Now known as Alphabet Inc. (Nasdaq: GOOG, GOOGL), the firm went public in 2004 and today has a market cap of $523 billion. It also controls roughly 80% of online search in the United States - that's market dominance on steroids.
And here's some more. In 2007, Google launched its Android mobile operating system. Android now commands an 82.8% share of the smartphone market, according to IDC.
To keep Google focused on its core mission, the company recently restructured. Under that plan, the Google operating unit includes search, Android, YouTube, and the Chrome browser and operating systems.
Alphabet will manage a growing list of non-web businesses. These include everything from building robots and self-driving cars to exploring opportunities in human longevity and virtual reality.
That leaves Google free to pursue its ambitious plans to become an "end to end" Internet firm. The company's goal is to deliver incredibly fast web speeds and, in so doing, to transform Internet coverage and online streaming.
Stated simply, the company wants consumers to make Google the first-choice provider for all their Internet needs: for web access and email, for shared documents and photos, for YouTube videos, for mobile search, for online shopping, and even for connectivity itself.
Google Fiber is a fiber-optic alternative to traditional web connections over phones lines or cable. It delivers speeds of 1 gigabit, which is roughly 40 times faster than the average household's broadband speeds.
On Dec. 8, Google said it will bring the service to Los Angeles and Chicago, the nation's second- and third-largest cities. Google Fiber is now in 20 cities covering 5% of the U.S. population.
In our next conversation, I'm going to show you the remaining three members of the New Internet Dream Team.
And you'll see why each of those web giants needs to be on your tech investing list for 2016.
Follow us on Twitter @moneymorning or like us on Facebook.
Doubling Your Money with the Cloud: The cloud sector is a massive tech investing opportunity - by 2020, it's projected to grow 30% into a $270 billion industry. And the company that pioneered the cloud-computing field will ride that momentum to 100% gains...
About the Author
Michael A. Robinson is a 36-year Silicon Valley veteran and one of the top tech and biotech financial analysts working today. That's because, as a consultant, senior adviser, and board member for Silicon Valley venture capital firms, Michael enjoys privileged access to pioneering CEOs, scientists, and high-profile players. And he brings this entire world of Silicon Valley "insiders" right to you...
He was one of five people involved in early meetings for the $160 billion "cloud" computing phenomenon.
He was there as Lee Iacocca and Roger Smith, the CEOs of Chrysler and GM, led the robotics revolution that saved the U.S. automotive industry.
As cyber-security was becoming a focus of national security, Michael was with Dave DeWalt, the CEO of McAfee, right before Intel acquired his company for $7.8 billion.
This all means the entire world is constantly seeking Michael's insight.
In addition to being a regular guest and panelist on CNBC and Fox Business, he is also a Pulitzer Prize-nominated writer and reporter. His first book Overdrawn: The Bailout of American Savings warned people about the coming financial collapse - years before the word "bailout" became a household word.
Silicon Valley defense publications vie for his analysis. He's worked for Defense Media Network and Signal Magazine, as well as The New York Times, American Enterprise, and The Wall Street Journal.
And even with decades of experience, Michael believes there has never been a moment in time quite like this.
Right now, medical breakthroughs that once took years to develop are moving at a record speed. And that means we are going to see highly lucrative biotech investment opportunities come in fast and furious.
To help you navigate the historic opportunity in biotech, Michael launched the Bio-Tech Profit Alliance.
His other publications include: Strategic Tech Investor, The Nova-X Report, Bio-Technology Profit Alliance and Nexus-9 Network.