This month marks the 20th anniversary of a turning point in the history of tech investing.
Mary Meeker and Chris DePuy were analysts at Morgan Stanley in the fall of 1995 when they issued their landmark "Internet Report." In it, they showed how the web would transform the entire economy while making fortunes for savvy investors.
Because Morgan Stanley was the firm behind the wildly successful Netscape Communications initial public offering, investors clamored for a copy.
Demand was so intense that in December 1995, the "Internet Report" was officially released in book form and quickly became a best seller.
The "Report" turned out to be prescient, indeed. It not only foresaw the way the web would become a high-tech and economic force, but also foreshadowed the Mobile Revolution we're living through today.
However, one thing Meeker and DePuy didn't see coming was the rise of what I call the New Internet "Dream Team" – a quintet of firms that dominate key segments of a market sector worth a combined $2.6 trillion.
And today, I'm going to show you the first two players on this team – and why each is a great foundational play for 2016 and beyond…
Three Tech Investing Cash Cows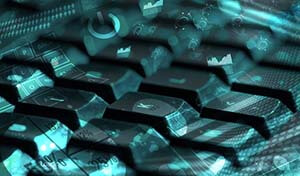 The World Wide Web has come a long way since the 1990s when it was used mostly to surf the Internet for information.
And since that time, three web-based sectors in particular have become cash cows for tech investors.
Take online shopping. According to eMarketer, global consumer e-commerce sales will hit $1.7 trillion this year. And the forecasting firm is projecting that e-commerce will grow nearly 40% in the next three years, reaching roughly $2.4 trillion.
Next, consider how the Mobile Revolution has paved the way for wireless shopping and mobile advertising, two fields that basically didn't exist until June 2007, when the iPhone from Apple Inc. (Nasdaq: AAPL) made its debut.
Goldman Sachs believes that 535 million global consumers will make mobile purchases in 2015 and that the year will see more than $600 billion in wireless commerce.
To assess the impact of mobile shopping, look no further than this year's Christmas sales. Wal-Mart Stores Inc. (NYSE: WMT) says that since Thanksgiving, about half of its online orders have come from mobile devices, almost double the number from that same period in 2014.
There's a third Internet sector investors need to track. That's cloud computing, which refers to the family of devices and software that makes it possible for companies to access data and applications that are "hosted" for them at remote centers and delivered to them over the web.
As recently as 2008, this niche was worth barely $6 billion. But in 2014, cloud revenue clocked in at $75 billion. And Forrester Research forecasts that this segment will be worth $150 billion by 2020.
That's 2,400% growth in just over a decade.
The segments we just looked at – e-commerce, mobile advertising, and cloud computing – are now mature, target-rich sectors.
And five high-tech global leaders in particular form a "Dream Team" that is perfectly positioned to collect a huge portion of the riches the New Internet economy now provides.
Let's take a look at our first two team members now…
Join the conversation. Click here to jump to comments…
About the Author
Michael A. Robinson is a 35-year Silicon Valley veteran and one of the top technology financial analysts working today. He regularly delivers winning trade recommendations to the Members of his monthly tech investing newsletter, Nova-X Report, and small-cap tech service, Radical Technology Profits. In the past two years alone, his subscribers have seen over 100 double- and triple-digit gains from his recommendations.
As a consultant, senior adviser, and board member for Silicon Valley venture capital firms, Michael enjoys privileged access to pioneering CEOs and high-profile industry insiders. In fact, he was one of five people involved in early meetings for the $160 billion "cloud" computing phenomenon. And he was there as Lee Iacocca and Roger Smith, the CEOs of Chrysler and GM, led the robotics revolution that saved the U.S. automotive industry.
In addition to being a regular guest and panelist on CNBC and Fox Business Network, Michael is also a Pulitzer Prize-nominated writer and reporter. His first book, "Overdrawn: The Bailout of American Savings" warned people about the coming financial collapse - years before "bailout" became a household word.
You can follow Michael's tech insight and product updates for free with his Strategic Tech Investor newsletter.