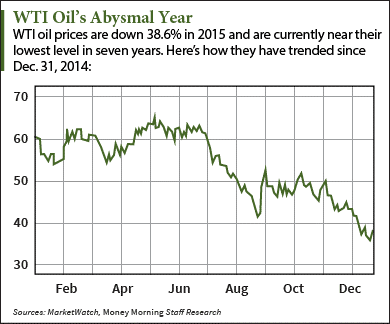 WTI crude oil prices today (Monday) fell 2.6% in early morning trading as the commodity closes out its worst year since 2008.
At 9:30 a.m., WTI crude oil prices were trading at $37.12 a barrel. Today's fall ends last week's holiday rally, which saw the U.S. benchmark close above $38 thanks to a surprise drop in domestic oil supply. Prices have plunged 13.6% this month and 38.6% this year.
Brent crude oil prices were slightly less volatile this morning. The global benchmark dropped 2.3% to $37.52 a barrel. It's now down 18% in December and a whopping 44.2% in 2015.
Why WTI Crude Oil Prices Keep Falling
The reason why WTI crude oil prices are down today is slowing demand in Japan and Europe.
According to a new report, total November oil sales in Japan - the third-largest oil consumer in the world - fell to their lowest level since 1969 last month. Meanwhile, new data from JBC Energy showed Europe's oil demand growth turned negative in October.
Another reason pundits think WTI crude oil prices are down today is the repeal of the U.S. export ban. On Dec. 16, Congress lifted the country's 40-year-old ban on oil exports as part of a $1.1 trillion spending bill and in response to the dramatic drop in prices.
Oil investors worry that lifting the ban would send WTI crude oil prices down to catastrophic levels. With the benchmark hovering near its lowest level since the Great Recession, investors don't want the federal government to exacerbate the crash.
Their fears are supported by most mainstream news outlets, which are reporting that lifting the ban would just the flood the already oversupplied market with more oil.
"The same low prices that generated momentum for lifting the ban could reduce its short-term economic impact, however, because the global market is saturated and U.S. oil companies have already slowed drilling in response," The Wall Street Journal reported after the ban was repealed.
But what many don't understand is that ending the ban would actually boost crude oil prices over the long term - and be good for U.S. energy companies.
According to Money Morning Global Energy Strategist Dr. Kent Moors, U.S. oil exports will greatly benefit domestic energy companies over the long term. In fact, it will give the entire private energy sector a competitive edge over OPEC nations dominated by government-run oil firms.
"We lead the world in what can be accomplished with private property and profit incentive, with a fair amount of entrepreneurial skill for good measure," Moors explained earlier this month. "That will be the difference in a master fight of global proportions just getting under way in the energy sector."
Moors outlined here the four reasons to lift the oil ban now - and how exactly it'll help strengthen U.S. energy companies.
Alex McGuire is an associate editor for Money Morning who writes about energy. Follow him on Twitter for all the biggest oil and gas updates.
Like us on Facebook: Money Morning
Related Articles: