Gold prices today (Thursday) were mostly flat, meaning gold prices are now on pace to log their third consecutive annual loss.
In early morning trading of the last session of 2015, spot gold prices today were trading higher by $1.10, or 0.1%, to $1,062.10 an ounce. That followed an $8.20, or 0.8%, decline to $1,060.10 an ounce Wednesday.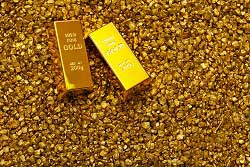 Year to date, gold prices are down 10.5%. Gold is now poised to finish 2015 close to the near-six-year low of $1,045.85 it hit in early December.
Sign up for SMS so you never miss special events, exclusive offers, and weekly bonus trades.
Gold prices started the year at $1,172.50 an ounce and traded as high as $1,300.70. But a stronger U.S. dollar, prospects for higher interest rates, and a slowdown in China all pushed gold prices down in 2015.
The dollar is on track to end this year with a 9% gain against a basket of major currencies. The euro is lower by roughly 10% against the dollar since the start of 2015.That has made dollar-denominated gold more expensive for foreign buyers.
Many forecasts call for continued strength from the dollar as well as additional rate hikes from the U.S. Federal Reserve in 2016. Those two stories will have major impacts on gold prices throughout 2016.
Several traders and brokerages are predicting a drop in gold prices to $1,000 an ounce or below early next year.
And the actions of the Federal Reserve will be closely watched by gold investors...