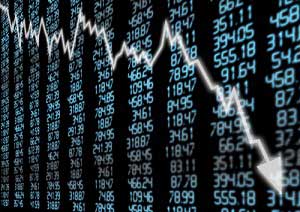 The first trading day of 2016 got off to a rough start today (Monday) as the Dow Jones Industrial Average fell as much as 448 points in morning trading. And that has left many investors worrying about a potential stock market crash in 2016.
Fueling today's losses were many of the same concerns that weighed on stocks in August 2015...
Mounting geopolitical tensions, a fragile junk bond market, and volatile oil prices all pushed stocks lower today. But the biggest concerns stemmed from China's stock market.
In its biggest decline on record for the first trading day of the year, the Shanghai Composite tanked 6.9% Monday. The smaller Shenzhen Composite plummeted 8.2%.
China's stock market crash on Monday triggered its first ever halt and rattled markets worldwide.
Japan's Nikkei Stock Average lost 3.1%, Hong Kong's Hang Seng Index fell 2.7%, and South Korea's Kospi declined 2.2%.
U.S. markets also tumbled. The Dow Jones Industrial Average declined 448 points, or 2.6%, shortly after the market opened. The S&P 500 dropped 2.5%, and the Nasdaq Composite fell 3.1%. It was the worst new year open for U.S. stocks in 84 years.
It was reported earlier Monday that China's Caixin-Markit manufacturing PMI fell to 48.2 in December. The reading was down from the previous month's read of 48.6. It was also short of the 49.0 economists were expecting. China's manufacturing sector has been in contraction for 10 straight months and now sits at its lowest level since September.
Simmering tension between Saudi Arabia and Iran also caused some investors to worry.
Hours after Iranian protestors set fires Sunday in the Saudi Embassy, Saudi Arabia announced it was severing ties with Iran. Oil prices surged 2.9% to $38.35 a barrel amid speculation about a possible supply disruption.
China's stock market crash is not expected to pressure developed markets over the longer term. Still, there are reasons to be concerned...
Will These Concerns Lead to a Stock Market Crash in 2016?
The current bull market has been occurring for nearly seven years, making it the fourth longest in history. A pause for stocks is normal for a bull market of this duration. Since its financial-crisis-era low in 2008, the S&P 500 has returned 249%, according to data from The Wall Street Journal.
Geopolitical risks are mounting. Saudi Arabia's foreign minister said Sunday that his country is severing ties with Iran. Iranian diplomats in Saudi Arabia have 48 hours to leave the country. Saudi Arabia's execution of Shiite cleric Nimr al-Nimr Saturday ignited a new round of scuffling that analysts say could trigger a dangerous shift in an already unstable region.
The pace of the U.S. Federal Reserve's rate tightening is uncertain, which could lead to increased volatility. Evercore analysts predict plausible 2016 outcomes could range from zero to six rate increases.
2016 is an election year, meaning Wall Street and Washington will collide more than usual.
With some fearing that a stock market crash could be coming in 2016, investors may be tempted to run for the exits...
But Money Morning Global Credit Strategist Michael E. Lewitt has shared the best investments to hold in 2016 when the markets are volatile. Here are his top three picks for 2016...
Stay informed on what's going on in the markets by following us on Twitter @moneymorning or liking us on Facebook.
Related Articles: