There are still a lot of investors who do not consider investing in pot stocks when building their portfolios. But that will change.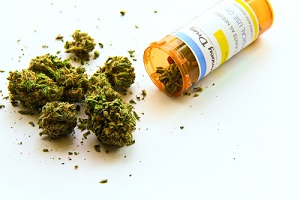 Analysts from The ArcView Group, a cannabis industry research firm, found the U.S. market for legal cannabis grew 74% in 2014 to $2.7 billion, up from $1.5 billion in 2013. That makes legal marijuana the fastest-growing industry in the United States, according to ArcView.
There are currently 23 U.S. states that have legalized medicinal marijuana. In the past five years alone, 10 states have legalized marijuana use. As the political climate shifts in the marijuana industry's favor, it's likely more states will legalize marijuana in the future.
Why the sudden acceptance for marijuana? As always, it's about the money. Marijuana is a profitable industry. And governments love anything they can tax.
For 2014, Washington and Colorado - two of the first states to legalize medicinal marijuana - each collected around $70 million in tax revenue, CNN and Time Magazine reported. The states' tax revenue gives investors a snapshot about how much profit marijuana can capture for local governments.
According to the research firm GreenWave Advisors, the U.S. marijuana market could be worth $35 billion by 2020 if it's legalized federally. That's over twice as big as the current annual revenue of the National Football League at $10 billion, The Washington Post reported.
But while the industry is growing, that doesn't mean all pot stocks are good investments - yet.
There are some high-quality pot companies right now, but most of them are private. They're only accessible to venture capitalist investors who have close relationships with these companies. Eventually we anticipate many of these companies will go public.
Until then, Money Morning is cautious about most pot stocks...with this one exception...
Are Any Pot Stocks Good Investments for 2016?
It's best to wait to invest in pot stocks until marijuana is legalized at the federal level or downgraded to a schedule 2 or 3 substance. Once the federal government accepts the revenue-generating potential of marijuana, then investors will know it's time to jump in.
The problem with investing in pot stocks right now is many public pot companies are scams that use shady marketing tactics.
"The market for cannabis products is still taking off," said Money Morning Defense & Tech Specialist Michael A. Robinson. "But as in any other sector, not all stocks will be winners."
In 2014, the Securities and Exchange Commission temporarily suspended trading for some of these companies for falsely promoting their products and promising high returns. The SEC also nailed others for market manipulation and unlawful sales of securities.
Here is a list of marijuana companies the SEC has issued warnings for so far:
FusionPharm Inc.
Cannabusiness Group Inc.
GrowLife Inc.
Advanced Cannabis Solutions Inc.
Petrotech Oil and Gas Inc.
As the pot industry expands, there may be an even greater risk of scam activity. Investors should only invest in pot stocks that have no history of SEC violations.
There is one that Money Morning recommends: the cannabis biotech firm GW Pharmaceuticals Plc. (Nasdaq ADR: GWPH).
The Best Pot Stock to Invest in Today
GW Pharmaceuticals is a biopharmaceutical company that uses marijuana cannabinoids in many of its drugs to combat various ailments.
The company has discovered more than 65 cannabinoid compounds that treat life-threatening diseases. Its most popular medicine, Sativex, is used to treat multiple sclerosis-related symptoms and cancer pain.
Robinson recommended GW Pharmaceuticals in March 2014. GWPH went on to gain 15% by the end of the year. Currently, the stock is near its 52-week low after it posted lackluster results from one of its phase 2 trials back in September. That being said, it's still a worthy pot stock to consider. GW Pharmaceuticals has many successful products, like Sativex, that will continue to create value for its investors.
"GW Pharmaceuticals is a winner for the long haul," Robinson said.
The Bottom Line: The pot stock industry is still in its infancy, so there aren't many stable investment opportunities right now. It's best for investors to wait until marijuana is legalized at the federal level. As more states push for legalization, this could happen sooner than you think. Be on the lookout for changes in the marijuana industry at the federal level in the next five to 10 years. For now, collect pot stock profits with GW Pharmaceuticals.
Tweet the author @cgsaucier, or leave a comment on Money Morning's Facebook page.
The Gold Mining Revolution: Technological advancements in gold mining have been stagnant, but one tiny Canadian company is about to change that. Its special extraction method will slash production costs and send gold prices soaring. In fact, this nano cap could disrupt the entire industry...