For Jan. 6, 2015, here's the top stock market news and stocks to watch based on today's market moves…
How Did the Stock Market Do Today?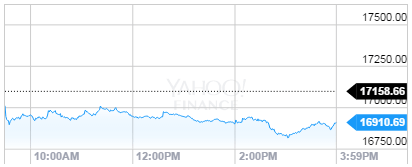 Dow Jones: 16,906.51; -252.15; -1.47%
S&P 500: 1,990.26; -26.45; -1.31%
Nasdaq: 4,835.77; -55.67; -1.14%
The Dow Jones Industrial Average today (Wednesday) cratered another 252 points as traders weighed geopolitical concerns around the world, which fueled a sell-off on the back of plunging oil prices. The S&P 500 Volatility Index – the markets' fear measurement – rose 6.7% on the day.
Why did the Dow Jones Industrial Average face such a huge rout? The world is on fire. Chinese markets remain in turmoil despite an emergency injection of liquidity and further weakening of the yuan by its central bank, North Korea surprised the world by claiming it tested a hydrogen bomb overnight, collapsing relations between Saudi Arabia and Iran have driven oil prices to 11-year lows, and more volatility is rearing its head. Money Morning Capital Wave Strategist Shah Gilani explains why 2016 will be so volatile, right here.
Top Stock Market News Today
 Stocks to Watch: CMG, NFLX, AN, YHOO, BABA, AOL
What Investors Must Know This Week
Follow Money Morning on Facebook and Twitter.