U.S. President Barack Obama outlined an executive order Tuesday that seeks to expand background checks for gun buyers. The measure specified that individuals "in the business of selling firearms" register as licensed gun dealers.
The order was issued in hopes it will narrow the so-called "gun show loophole," which exempts most small sellers from keeping formal sales records. Under current law, only federally licensed gun dealers must conduct background checks on buyers, but many who sell firearms at flea markets, on websites, or in other informal settings don't register as dealers.
It wasn't long after the president went public with his executive order that critics took issue with his "grant of constitutional power." On its website yesterday, the NRA claimed Obama's plan was "ripe for abuse" and stated it will not allow for "law-abiding gun owners to become scapegoats for President Obama's failed policies." New House Speaker Paul Ryan (R-WS) called Obama's plan "a form of intimidation that undermines liberty," reported KESQ.com.  GOP presidential hopeful Sen. Ted Cruz (R-TX) told FOX News that "the president is behaving in an unprecedented way."
Certainly the topics over which President Obama has used executive power are unprecedentedly controversial, compared to his presidential peers.
However, the number of times he's exercised executive actions is not unprecedented - in fact, he's middling in that department. Take a look....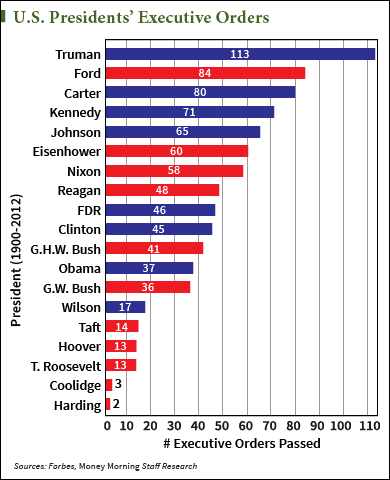 But here's the catch. President Obama has been taking what are, essentially, executive actions, but under a different guise: the "presidential memorandum." These don't count against his total number of executive actions.
It's that alternative, slyer flex of POTUS authority that is truly controversial - and many folks aren't at all aware of how it works...
President Obama Is the Largest Issuer of "Presidential Memorandums" in History
President Obama has governed a lot with his pen during his time in office, earning him the title of "Emperor Obama" as far as former House Speaker John Boehner is concerned.
One thing that makes our commander-in-chief more contentious with his directives is the fact that he's issued a form of executive action known as the "presidential memorandum" more often than any other president in history, just shy of 200 as of Dec. 15, 2014. The next in line was President George W. Bush, who issued 125.
Like executive orders, the presidential memorandum doesn't require action by Congress. It also carries the same legislative authority as executive orders do. And it can sometimes be just as far-reaching and divisive.
Some of the most significant actions of the Obama presidency have come not by executive order but this form of directive. Here are a few of note from the last couple years:
In his State of the Union Address in January 2014, the president proposed a new retirement savings account for low-income workers called a MyRA. A week later, on Jan. 28, he issued a presidential memorandum to the U.S. Treasury Department instructing it to develop a pilot program.
On April 8, 2014, the president directed the U.S. Department of Labor to collect salary data from federal contractors and subcontractors to monitor whether they're paying women and minorities fairly.
On Sept. 30 of last year, the POTUS issued one of his most controversial presidential memoranda authorizing the admission of up to 70,000 refugees to the United States during fiscal year (FY) 2015.
Combined with executive orders such as yesterday's gun control ordinance, Obama is "on track to take more high-level executive actions than any president since Harry Truman battled the 'Do Nothing Congress' almost seven decades ago," according to a Dec. 17, 2014, USA Today review of presidential documents.
Surely he's met that mark by now.
[mmpazkzone name="in-story" network="9794" site="307044" id="137008" type="4"]
What do you think of President Obama's executive orders and presidential memoranda? Let us know on Twitter @moneymorning, or like us on Facebook.
The Stock Buyback Con Game: Stock buybacks make sense for some companies, but not for all. These days, they're often used to manipulate stock prices - and they've hit record levels lately. What's driving this growth is dangerous for you and our economy...