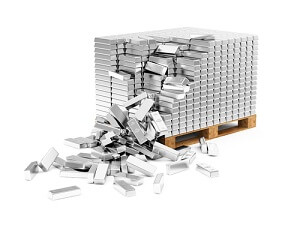 Silver prices today (Wednesday) moved slightly lower as the precious metal continues to suffer from an economic slowdown in China. At 12:55 p.m., futures for March delivery were trading at $13.95 per 5,000 troy ounces – the amount traded on each futures contract.
The decline in silver prices today came after the release of another disappointing report from China. The Caixin Purchasing Managers' Index (PMI) – which measures the economic health of China's manufacturing sector – fell from 51.2 to 50.2 in November. That was the slowest pace of expansion in 17 months.
As the world's largest importer of metals, China's economic contraction over the last several months has scared silver investors. Silver prices have fallen 6% since "Black Monday" on Aug. 24, when China's Shanghai Composite Index crashed 8.5%.
The surging strength of the U.S. dollar also had an influence on silver prices today. The U.S. dollar index has gained 4.2% over the last three months. That has caused the price of silver to dip 13% over the same period of time.
The rising dollar's bearish effects on silver prices worsened when the Fed raised interest rates on Dec. 16. A rise in interest rates weighs on silver prices because it boosts the value of the U.S. dollar. That makes precious metals more expensive to buyers using other currencies like the Chinese yuan.
But according to Money Morning Resource Specialist Peter Krauth, there are two important reasons to remain bullish on silver prices today. And one is an important announcement that indicates silver prices will soon begin their long-term rebound…
Why Silver Prices Today Are Providing a Great Buying Opportunity
On Dec. 24, CME Group Inc. (Nasdaq: CME) – which operates the New York Mercantile Exchange and, by extension, most commodities trading in the United States – announced the margin requirements on silver futures would be reduced. That means futures contracts are slightly cheaper, which incentivizes traders to participate in the silver market.
The exchange's new policy also indicates that silver prices will start their long-term rebound this year.
"These kinds of moves by the exchange do tend to come at price levels that are typically at or near extremes," Krauth explained last month, "which in itself is anecdotal evidence pointing to a bottom."
Another bullish factor for silver prices in 2016 is rising demand for physical silver. According to the U.S. Mint, sales of silver bullion coins hit 47 million ounces in 2015, up from 44.01 million the year before.
That's because demand for the Mint's American Silver Eagle bullion coins has skyrocketed over the last decade. From its first year of release in 1986 to 2007, only 3 million to 10 million coins were sold each year. Since 2007, sales have shot up 370% to 47 million.
"The overall prospects for silver prices are promising, despite the ravages of a four-and-a-half-year-long cyclical bear market," Krauth explained last month. "Looking forward, 2016 could well hold the key to renewed fortunes for the silver price."
The Bottom Line: The decline in silver prices today and over the last year has investors worried the precious metal will stay below $14 for the foreseeable future. But soaring demand for physical bullion and the CME Group's new margin reduction ensure silver prices will see strong gains in 2016.
Alex McGuire is an associate editor for Money Morning. Follow him on Twitter at @AlexMcGuire92.
Like us on Facebook: Money Morning
China Just Opened Your Next Window of Opportunity: By scrapping its one-child rule, China's created a massive investment opportunity. This policy reversal will drive an historic shift in production and consumption that will double the size of China's economy by 2035. The time to act is now. Here's how to align your money for maximum profit…