One of the first important investing events of the year is the Consumer Electronics Show (CES), which kicked off yesterday in Las Vegas.
Every January companies from around the world converge on Sin City to show off their new gadgets. You don't need to shell out for a ticket to see what's important - the press tweets, posts, and streams every tidbit there is to see.
CES is a dream world for tech fanatics. For investors and traders, it's a quick way to find growth in public companies.
When I scout this show, I'm interested in companies that not only return year after year, but also occupy more space than before. I look for continued growth and translate that into share-price gains you can profit from.
So here are my top three picks to bet on from this year's CES, and the best way to maximize profits on each trade.
How to Trade the Top 3 Growth Stories from CES 2016
This year, the biggest growth at CES seems to be in smart cars and drones more than anywhere else.
It seems more than three football fields of display area will be designated to the cars of the future and the accessories that will outfit them. Drones are expected to represent 25% more products this year than last.
Now here's how to turn those two trends into profits...
CES Profit Play No. 1: Alphabet Inc. (Nasdaq: GOOGL)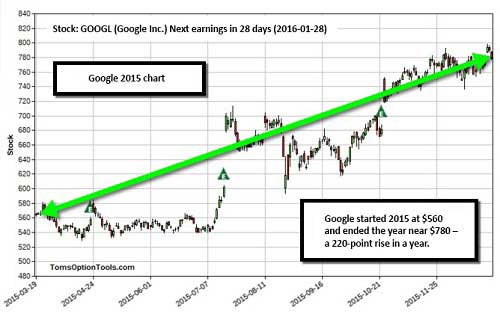 It's no surprise that Alphabet Inc. (Nasdaq: GOOGL) - formerly known as Google - is on this list. The company is ever-present at the CES show, with its hands in just about everything.
Google already has a smart car that it's currently testing. The one piece of the puzzle that's still missing for it is a platform to go from prototype to production. I'll have more on that in a moment (since Google is in talks with "CES Profit Play No. 3" about smart car production). For now, Google is concerned with being a connector - tying together behind the scenes all of the exciting hardware that's being created.
The proof of Google's dominance is in its performance. The stock price defied the laws of the markets in 2015 by jumping from $560 a share to near $780. That's a 35% return in a year.
The Option Play: For options traders, we can get huge upside potential with limited risk - and lower cost output - with a "loophole" trade. Here's how to do it...
Right now you can "rent" Google using call options that have a strike price of $800 to $900 with January 2017 expiration dates. That means you'd be able to buy Alphabet stock at $800 or $900 per share before January of next year. It's trading this week around $762.
The cost of buying these call options is about 5% of what it would cost to own the actual stock, and you'd have an upside of a near 300% return on the options if Google is above $900 a share by 2017.
But to limit your initial cost even further, you can use the "loophole" spread - buying one option with a strike price of $800 and selling one with a strike of $900 (for example). The sale of the $900-strike calls will cut your initial stake at risk in half (since the premium price on these is about half the price of the $800 calls), and you'll still have the chance to double or triple that initial smaller investment.
CES Profit Play No. 2: Amazon.com Inc. (Nasdaq: AMZN)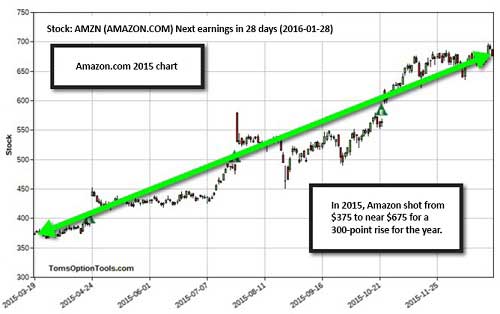 The use of drones is becoming more widespread by the year, and it won't be long before you see one in every neighborhood. While the Federal Aviation Administration (FAA) is trying to regulate these new flying machines, Amazon.com Inc. (Nasdaq: AMZN) is eagerly anticipating the rules to be released for commercial flying.
Once these rules are released, expect AMZN to begin a new phase of light package delivery in select cities called "Prime Air."
AMZN ended the year up nearly 100% from last year, and there seems to be no end in sight for the world's largest retailer.
While I am negative on the stock for the short term (as my Money Calendar Alert subscribers know), I have it tracking up over the long term. Buying 100 shares of AMZN at today's price would cost you about $65,000 roughly. So why not "rent" it?
The Option Play: A year of "renting" AMZN with the 2017 call options is a far cheaper approach. And with a loophole trade like the one described above (for GOOGL), you can save 95% of the cost of ownership.
The 2017 call options with strikes at $660 and $700 are spreading at about 13 points, meaning they only cost $1,300 to rent the spread. With an upside reward at $2,700, this is better than a 2-1 reward to risk ratio.
CES Profit Play No. 3: Ford Motor Co. (NYSE: F)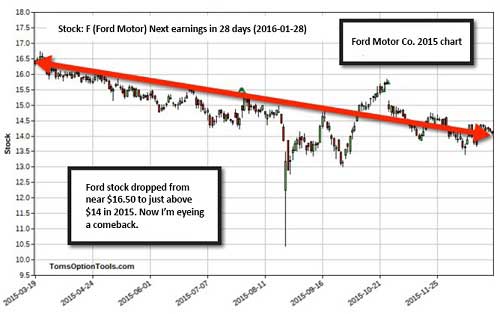 Ford Motor Co. (NYSE: F) is my "sleeper" stock of 2016. Ford didn't exactly have the best year in 2015, but to be fair, most of the stock market didn't fare well.
As I alluded to earlier, Ford is in talks with Google about a partnership to take the smart car from concept to production. If this becomes more than just talk, expect one of the oldest companies on the stock exchange to yet again make a giant step forward, securing its future - as  well as shareholder value.
The Option Play: Renting the 2017 $13 calls on Ford costs less than $200. The percent to double is high at 17%, so conservative traders might opt for actually buying the stock, which is already a cheap $14.
But here's another way to make this trade a bit cheaper. You could lower your initial cost by $2 if you sell those $13-strike call options while you buy the stock at the same time - making the overall cost just $12 per share.
Ford also pays a dividend - currently yielding 4.53% - which further makes up your cost during the year and gives you the potential to break even before the real gains start. That's a very attractive play when you consider you'll get exposure to a solid American company with a big vision for the future...
And there you have my three winning picks from the 2016 CES show and the ways to trade them like a pro.
Just Released - Tom Gentile's Million Dollar Profit Program: America's No. 1 trader wants every investor to make a million dollars - THIS YEAR - starting with this 100% "money-doubler." Click here to get his free report, "How to Make an Easy 100% Return on the World's Most Valuable Company" - plus all of his Power Profit Trades research - with no obligation.
Follow Money Morning on Facebook and Twitter.
Join the conversation. Click here to jump to comments…
About the Author
Tom Gentile, options trading specialist for Money Map Press, is widely known as America's No. 1 Pattern Trader thanks to his nearly 30 years of experience spotting lucrative patterns in options trading. Tom has taught over 300,000 traders his option trading secrets in a variety of settings, including seminars and workshops. He's also a bestselling author of eight books and training courses.