The Netflix stock price is down roughly 3% today (Thursday), which is in-line with the sell-off of the broader market.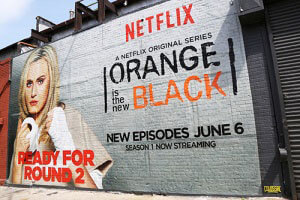 Tech stocks have been especially hit hard this week. The Nasdaq is down 5.94%, and tech stocks like Facebook Inc. (Nasdaq: FB) and Apple Inc. (Nasdaq: AAPL) are down 4.2% and 6.87%, respectively. The Dow Jones Industrial Average has fallen 5% in 2016.
Fears over falling oil prices, the Chinese economy, and tension between Saudi Arabia and Iran are making investors cautious entering 2016.
But despite the volatility this week, we are still bullish on Netflix Inc. (Nasdaq: NFLX) in the long term.
Money Morning Defense & Tech Specialist Michael A. Robinson predicted that the stock market would be volatile entering 2016, and he knew that it would negatively affect the Netflix stock price.
"The next couple of quarters may be dicey for Netflix stock because of the stock market," Robinson explained in October. "This stock's personality is that it periodically goes through sell-offs. You need to be thinking long term with Netflix."
And because of the broader market volatility, Robinson says that Netflix stock is not for short-term investors.
But he does believe Netflix will reward investors who are patient.
"If you can hang in and go through any volatility, you can be okay with Netflix stock long term," Robinson said.
And NFLX stock just received another major catalyst this week during the Consumer Electronics Show in Las Vegas. You see, Netflix will now be available to millions more people around the world…
The Netflix Stock Price Will Soar Because of Original Programming
At this week's Consumer Electronics Show, CEO Reed Hastings announced that Netflix will be available in 130 new countries. Netflix stated in its last quarterly earnings report that it hopes to add 3.5 million subscribers globally for Q4 2015.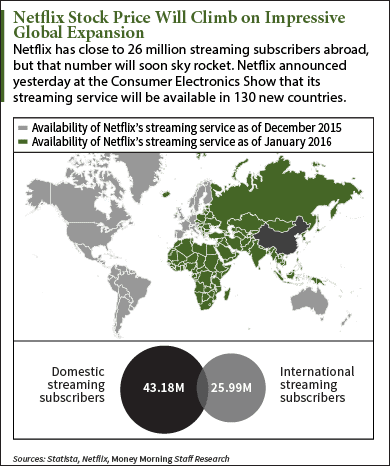 And that wasn't his only announcement.
Netflix is also doubling down on its original programming for 2016, and that's great news for NFLX shareholders.
In 2015, Netflix produced 16 scripted series. This year, Netflix plans to nearly double its original scripts to 31.
You see, these original programs are critical for Netflix to increase its audience size…
For Netflix to distinguish itself from other comparable streaming service providers, it needs to have programming that can only be found on its platform.
And the long-term profits of shows like "House of Cards" are quite substantial. While it cost $100 million to produce two seasons of "House of Cards," it would only take Netflix two years to break even if a little over half a million people signed up for a subscription that, at the time of the air date, cost $7.99, according to The Wire.
Netflix currently charges $9.99 for new customers, and the increase in subscription price will help Netflix develop these new shows.
The company beat Q3 estimates for international growth of 2.4 million subscribers by adding 2.74 million.
The Bottom Line: The Netflix stock price is volatile because of market instability, so it's not a stock short-term investors want to own. But the international programming, which will continue to grow the subscriber base in the United States and abroad, means that NFLX stock is a great addition to portfolios for the long term.
Jack Delaney is an associate editor for Money Morning. You can follow him on Twitter and follow Money Morning on Facebook.
Capital Controls Are Here: If you think you can always get cash out of your bank account when you want it, you're wrong. Banks can restrict access to deposits – or confiscate them – and yet the general public has no idea these "laws" exist. Here's how this nightmare could impact you…