The most valuable - and secretive - company in the world is considering going public in 2016.
According to a report by The Economist, a Saudi Aramco IPO is being considered by the Saudi Arabian government. The state-owned oil colossus, known for keeping its revenue numbers under wraps, announced today (Friday) it's going over potential plans to sell a stake in the company.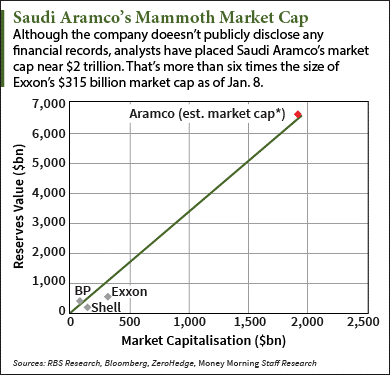 A Saudi Aramco IPO of even a small slice of the company could raise billions of dollars. It could also possibly become the largest IPO of all time. After all, analysts from RBS Research and Bloomberg estimate Saudi Aramco would command a $2 trillion market capitalization after going public. That's about 535% more than Exxon Mobil Corp.'s (NYSE: XOM) market cap.
Saudi Arabian Oil Co., popularly known as Saudi Aramco, has dominated the global oil industry for over 70 years. It produces more than 10% of the world's total oil supply every day. In its 2014 annual report, the company said it owns 261 billion barrels of crude oil reserves. That dwarfs the 14 billion barrels owned by Exxon - the largest non-state-owned oil company in the world.
According to The Wall Street Journal, Saudi Aramco's private valuation is up to 20 times larger than Exxon's when considering just oil reserves alone. Mohammad al-Sabban, a former advisor for the Saudi oil ministry who now works as an independent analyst, said the company's valuation is "more than $10 trillion."
And there's one important reason why Saudi Arabia will launch the Saudi Aramco IPO in 2016. Saudi Arabia is racing to fix a growing $87 billion problem...
One Reason Why the Saudi Aramco IPO Will Happen This Year
The massive proceeds from the Saudi Aramco IPO will be used to pay off Saudi Arabia's mounting budget deficit.
You see, oil accounts for nearly 80% of Saudi Arabia's total exports. Thanks to the 70% plunge in oil prices over the last 18 months, the country has lost billions of dollars in revenue. In fact, the government reported a fiscal deficit of $98 billion in 2015 - roughly 15% of its total gross domestic product (GDP).
With a current budget deficit of around $87 billion, the kingdom is desperate to cover its debt. Selling a stake of its crown jewel to the public is an efficient and transparent way to infuse money into the nation's struggling economy.
"The country could burn through its foreign reserves or reach debt to GDP of 100% in around seven years," RBS analysts wrote following news of the Saudi Aramco IPO. "In an environment of lower for longer oil prices, the government will need to look for more lasting solutions to its deficit problem."
But money troubles aren't the only problem Saudi Arabia is dealing with right now. The country is embroiled in an escalating conflict with Iran after Saudi officials executed a popular Shiite cleric named Nimr al-Nimr. Since Saudi Arabia has a Sunni-run government and Iran's is run by Shiites, the cleric's death sparked protests among Saudi Arabia's minority Shiite population.
The Saudi-Iran conflict has oil investors worried since both countries are located near the Strait of Hormuz, where 20% of the world's globally traded oil passes through every day.
But Money Morning Global Energy Strategist Dr. Kent Moors says there's another factor that will have an even greater impact on oil prices. In fact, he calls this factor the conflict's "flashpoint" because it could potentially spark widespread chaos in the Middle Eastern oil market....
Don't miss any oil or IPO updates - follow me on Twitter at @AlexMcGuire92.
Like us on Facebook: Money Morning