Silver prices today (Friday) tumbled below the $14 mark following the release of a better than expected December jobs report.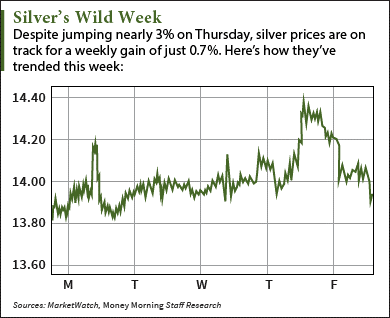 At 2:15 p.m., futures for March delivery fell 2.9% to trade at $13.93 per 5,000 troy ounces – the amount traded on each futures contract. Thanks to China's stock market crash, silver prices had a volatile start to the year. The metal jumped 2.6% intraday on Thursday before erasing those gains today. Prices are on track for a weekly gain of 0.7%.
Today's drop in the silver price came after the U.S. Labor Department reported the economy added 292,000 jobs in December. Economists expected an increase of 215,000. Meanwhile, the U.S. unemployment rate remained unchanged at 5%.
Strong employment data can be bearish for silver prices because a strengthening economy could incentivize the U.S. Federal Reserve to raise interest rates again. Any increase in interest rates makes the U.S. dollar stronger against other currencies. That drags down the prices of dollar-denominated commodities like silver.
The rise of the dollar has had a particularly strong influence on silver prices recently. The U.S. dollar index has gained 3.9% since October. That has caused the price of silver to dip 12.4% over the same period.
But Money Morning Resource Specialist Peter Krauth says silver prices are on track for a stellar year in 2016 for two reasons. Here's why adding silver to your portfolio in 2016 is such a smart decision for all investors…
Alex McGuire is an associate editor for Money Morning. Follow him on Twitter at @AlexMcGuire92.
Like us on Facebook: Money Morning