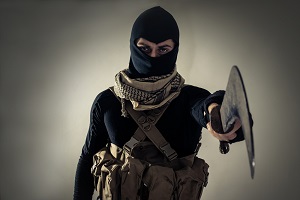 On Jan. 8, two refugees from Iraq were arrested on terrorism charges in California and Texas. They'd been conspiring for years to carry out a jihadist attack on American soil.
News of the arrest prompted Texas Gov. Greg Abbott to plea for an end to the resettlement of refugees in his state. Over the last five years, Texas has resettled more refugees than any other U.S. state (41,647 total), reported Quartz on Dec. 11, 2015. It surpassed even the more populous California – which settled 36,948 in the same period.
The United States had granted one of these Iraqi refugees permanent residence in 2011, two years after he entered the country. This was done because he "allegedly represented that he was not associated with a terrorist organization when, in fact, he associated with members and sympathizers of ISIL throughout 2014," prosecutors said, according to USA Today on Jan. 9.
In other words, he was allowed permanent residency based upon his word.
The idea calls the entire refugee vetting process into question. Fraud and gaping loopholes exist within the refugee admission process that must be addressed now more than ever.
A report released today by the Center for Immigration Studies (CIS) explains just how terrorists are slipping through refugee resettlement controls. And how the United States is entrusting  another faulty process – that of the United Nations High Commissioner for Refugees (UNHCR) – to help decide who is "safe" and "unsafe" to resettle.
The details are disturbing…
2 Ways Terrorists Defraud the Refugee Vetting Process
Since the beginning of the Syrian conflict in March 2011, 4,390,439 refugees have fled the country to neighboring countries in the Middle East, reports the CIS. Now they seek permanent status elsewhere.
As of Dec. 31, 2015, out of the four-million-plus registered Syrian refugees in the region, there are…
2,291,900 in Turkey
1,070,189 in Lebanon
633,466 in Jordan
244,527 in Iraq
123,585 in Egypt
26,722 in other North African countries
However, UNHCR has only 2,038 staff members total in these very regions.
That means there are roughly 2,154 refugees per single UNHCR employee. The ratio screams "overloaded organization." It's no surprise that bad eggs get through.
FBI director James Comey warned Congress and the president on Nov. 21 that the federal government does not have the ability to conduct thorough background checks on all 10,000 refugees.
"We can only query against that which we have collected," Comey said at the House Committee on Homeland Security hearing.
In other words, authorities can't collect data on people to make certain what they say adds up because, while America is a database-centric country, countries like Syria are not. This exposes a large gap in the "accurate vetting" process, allowing for different types of resettlement fraud to occur.
Here are those types:
Refugee Vetting Process Scam No. 1 – External resettlement fraud: External resettlement fraud applies to "fraud perpetrated by persons other than those having a contractual relationship with UNHCR," such as the refugees or asylum seekers themselves.
One example is identity fraud – which happens to be the most pervasive type of refugee resettlement fraud. It occurs when an identity is either invented or the identity of another real person is assumed by an impostor. On Sept. 4, 2015, German authorities seized a large cache of packages containing fake Syrian passports. Since Germany let Syrians register for asylum "regardless of where they entered the EU," the BBC reported that day, "the passports can help fraudulent claimants to get asylum."
In fact, some 527,000 migrants arrived in Germany last year. About 30% of them are actually migrants pretending to be Syrians, Tobias Plate, an Interior Ministry spokesman, told RT.com on Sept. 27.
Another type of external resettlement fraud is family composition fraud. This type of scam is more prevalent in Canada, but could pose a threat to the United States in the coming months as the Obama administration ramps up its refugee quota.
Family composition fraud occurs when "[refugees] bypass the overwhelmed UNHCR process in cases where Canadians could identify Syrian relatives," University of Ottawa law professor Peter Showler told The Globe and Mail on Sept. 3, 2015. In other words, if a settled legalized Canadian refugee vouches for a family member, the refugee could bypass the 18 to 24 month rigorous vetting process. "There would still have to be a security clearance, but that could be done by Canada."
And there's also document fraud. A Daily Mail report released on Sept. 17, 2015, outlined how one of their journalists purchased an entire package of Syrian documents created from legitimate blank stock, tailored to him, for only $2,000 in Turkey.
An Oct. 13 report from BBC News revealed that false documents are being used with remarkable success to pass through border and airport checkpoints in the Middle East and are readily available. One of their own investigators obtained and passed through checkpoints this way.
Refugee Vetting Process Scam No. 2 – Internal resettlement fraud: This refers to fraud perpetrated by UNHCR staff themselves. Examples include drafting false refugee claims or false needs assessments for resettlement, as well as taking bribes.
Last July, an Associated Press report outlined how this occurs regularly at the UNHCR base in Kenya, where many refugees originally from Somalia are attempting to get out. At the time, four UNHCR employees were under investigation for taking bribes and giving refugees preferential treatment.
How do you feel about the refugee vetting process? Tell us on Twitter @moneymorning or join the conversation on Facebook.
The Stock Buyback Con Game: Stock buybacks make sense for some companies, but not for all. These days, they're often used to manipulate stock prices – and they've hit record levels lately. What's driving this growth is dangerous for you and our economy…
Related Articles: