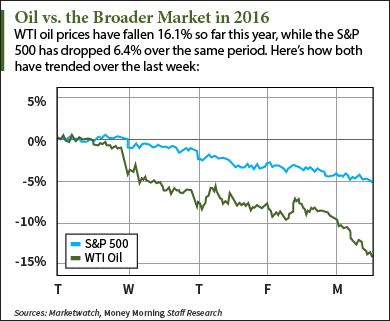 The West Texas Intermediate (WTI) crude oil price cratered 5.6% today (Monday) to its lowest level in 12 years. The drop occurred after China's stock market experienced another miserable trading session.
At 1 p.m., the WTI crude oil price was trading at $31.30 a barrel. According to FactSet Research Systems Inc. (NYSE: FDS), the U.S. benchmark hasn't closed under $32 since December 2003. After falling 10.5% last week, prices are now down 16.1% in 2016 so far.
The Brent crude oil price tumbled even lower today. The global benchmark plunged 6% to $31.88 a barrel. It's currently down 15.4% so far this year.
Here's why China is having a devastating impact on the WTI crude oil price today…
Why the WTI Crude Oil Price Is in Free Fall Today
Oil prices are on track for their sixth straight day of declines thanks to another day of huge losses in China.
The country's benchmark Shanghai Composite Index tumbled another 5.3% to settle at 3,016.70 – the lowest close since Sept. 15. The index was 89 points away from closing at the eight-year lows last seen on Aug. 26. It's down 14.8% in 2016.
China's turmoil has overshadowed hopes of declining U.S. oil supply. On Jan. 6, the U.S. Energy Information Administration (EIA) reported domestic oil inventories fell by 5.1 million barrels during the previous week. That marked the first decrease in two weeks.
"The global glut issue has been around for a while. Right now it is the fear of a Chinese slowdown that is spooking the market," said Barnabas Gan, a commodity analyst at the Singapore-based investment bank OCBC, to MarketWatch. "Most of the selling is based on emotions and panic."
As the second-largest oil consumer in the world after the United States, China's struggling stock market has rattled investors concerned about the country's slowing oil demand. After all, the volatility has caused the Dow Jones Industrial Average and the WTI crude oil price to fall 6.6% and 15.5% in the last week, respectively.
But there's another international event currently shaking up oil prices. And Money Morning Global Energy Strategist Dr. Kent Moors asserts this currently unfolding conflict is dominated by one "flashpoint" that could interrupt the global oil trade and cause a massive spike in prices…
Alex McGuire is an associate editor for Money Morning who writes about energy. Follow him on Twitter for all the biggest oil and gas updates.
Like us on Facebook: Money Morning
Related Articles: