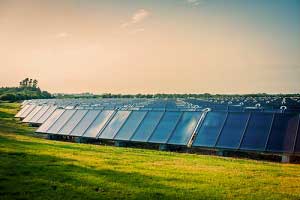 Solar stocks received a major catalyst last month when Congress passed a bill extending solar credits for another five years.
The credit extension will add an extra 20 gigawatts of solar power to the U.S. grid. That amount of power is more than every other panel previously installed in the United States prior to 2015 can provide, according to Bloomberg. 
 The United States is already one of the world's biggest clean-energy investors, but the extension is a major boost to the industry and solar stocks.
Some $73 billion in new investment in renewable energy is expected by 2020. That will provide 8 million more American households access to clean, renewable, affordable energy.
Money Morning Global Energy Strategist Dr. Kent Moors says 2016 will be a very important year for solar stocks and for the industry as a whole.
"Solar is here to stay," Moors said last month. "There's now a confluence of technology and economy that assures these new energy sources will continue to be adopted and improved upon - at ever-increasing rates."
You see, countries around the world are ramping up production. China is projected to spend $83 billion on solar energy projects in 2016 thanks to the government's new panel installation quota. The Indian government is investing $100 billion to install 100 gigawatts of solar capacity through 2022 - up from the nation's current capacity of 4 gigawatts.
As solar spending increases around the world, we've picked five of the top solar stocks to watch in 2016...
Sign up for SMS so you never miss special events, exclusive offers, and weekly bonus trades.
2016 Solar Stocks to Watch No. 1: First Solar (Nasdaq: FSLR)
First Solar Inc. (Nasdaq: FSLR) develops, engineers, constructs, and operates some of the world's largest grid-connected PV plants in the world. The Arizona-based company has over 10 gigawatts installed globally. On Jan. 5, Goldman Sachs upgraded FSLR to "Buy" from "Neutral" with a $100 price target. Janney Montgomery analyst Michael Gaugler recently boosted his 2017 earnings-per-share estimate 7% and hiked his price target to $82 from $79. Shares of this solar stock to watch trade at $64.87.
Continue reading for four more of the best solar stocks to watch in 2016...
2016 Solar Stocks to Watch No. 2: SunPower (Nasdaq: SPWR)
 SunPower Corp. (Nasdaq: SPWR) is a U.S. solar panel maker that has high-efficiency panels featuring SunPower's Maxeon cell technology. Based in Silicon Valley, SunPower generates over 18 million megawatt hours of solar energy. In April, SunPower announced a partnership with Apple Inc. (Nasdaq: AAPL) that will result in two solar power projects totaling 40 megawatts in China's Sichuan province. On Dec. 23, SPWR and Xcel Energy Inc. (NYSE: XEL) announced the commercial operation of the 50-megawatt Hooper solar photovoltaic power plant in Colorado's San Luis Valley. Xcel is purchasing the power generated by the plant at cost-competitive rates under a power purchase agreement with SunPower. Morgan Stanley reiterated its "Overweight" rating on SPWR in late December, raising its price target to $43 from $41. Shares currently trade at $24.91.
2016 Solar Stocks to Watch No. 3: SolarCity (Nasdaq: SCTY)
 SolarCity Corp. (Nasdaq: SCTY) installs the panels made by companies like SunPower and First Solar, tying together financing and installation to bring solar power to residential and commercial buildings. Bernstein analysts estimate the U.S. tax-credit extension is worth $50 to $55 per share to SolarCity. Taking into account the tax extension and favorable new rules in California, Bernstein's Hugh Wynne lifted his price target to $69 from $36. SCTY shares trade at $47.16 right now.
2016 Solar Stocks to Watch No. 4: Canadian Solar (Nasdaq: CSIQ)
 Canadian Solar Inc. (Nasdaq: CSIQ) designs, manufactures, and sells solar wafers, cells, and solar power products for residential, commercial, and industrial systems worldwide. On Jan. 6, CSIQ announced it has energized an additional five solar power plants, totaling 22.9 megawatts (MW), bringing its total fleet of solar power plants in operation in the United Kingdom to 63.1 MW. On Jan. 5, CSIQ announced its wholly owned subsidiary, Recurrent Energy, closed on a tax equity investment commitment with GE Energy Financial Services for the 75-MW Astoria 2 solar power project. In mid-December, FBR Capital initiated CSIQ with an "Outperform" and $32 price target. Shares of this solar stock currently trade at $21.45.
2016 Solar Stocks to Watch No. 5: SunEdison (Nasdaq: SUNE)
SunEdison Inc. (Nasdaq: SUNE) develops and operates hundreds of solar plants, representing a global PV capacity of 135.8 MW. Based in California, the company specifically provides opportunities for Ontario firms to leverage rooftop space and vacant land for installation of solar systems through purchase or lease. SunEdison recently reported the interconnection of two new solar plants in Ontario. SUNE shares trade at $2.95, making it one of the lowest-priced solar stocks to watch in 2016.
Stay informed on what's going on in the markets by following us on Twitter @moneymorning or liking us on Facebook.
The Gold Mining Revolution: Technological advancements in gold mining have been stagnant, but one tiny Canadian company is about to change that. Its special extraction method will slash production costs and send gold prices soaring. In fact, this nano cap could disrupt the entire industry...
Related Articles: