There's never a better time or place to look for tech stocks with potential than the annual Consumer Electronics Show (CES).
This year's CES, which ended Saturday, focused on several major tech trends that will bring billions in profits to their sectors over the next few years.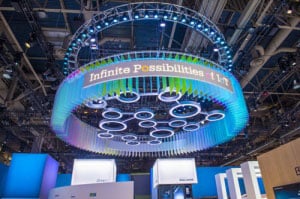 Some of the key trends at CES 2016 were the Internet of Things, ultra-high-definition TV (UHDTV, or 4K TV), self-driving cars, virtual reality, and drones. Less hyped but still getting attention this year were wearable tech and 3D printing.
The problem for investors is how to sort through the 3,600 exhibitors to find the best tech stocks to buy.
Fortunately, Money Morning kept a close eye on what came out of CES 2016, and we've identified five tech stocks that have the best chance to deliver outsized returns over the next year or so.
You'll want to give these tech stocks a good look…
The Five Best Tech Stocks from CES 2016
Top CES 2016 Tech Stocks No. 1, Nvidia Corp. (Nasdaq: NVDA) – Nvidia is a well-known name in tech, mostly as a provider of GeForce graphics chips for PCs. But that's not why Nvidia is on this list. At CES, Nvidia was showing off its Drive PX 2, a powerful self-driving car system. Nvidia CEO Jen-Hsun Huang described the technology as the "the world's first in-car supercomputer for artificial intelligence." Swedish automaker Volvo AB (OTCMKTS ADR: VOLVY) will be the first to use it, but Nvidia is selling the tech to several other auto companies as well, including Ford Motor Co. (NYSE: F) and BMW (OTCMKTS: BAMXF). In fact, more than 10 million cars on the road today use Nvidia technologies. That's a great head start and a strong indication of growth to come.
Plus, Nvidia is a major force in the field of "virtual processing units," or VPUs, at the core of virtual reality systems. The company's GeForce GTX 980 Ti powers the Oculus Rift headset, for example. Being at the cutting edge of two major tech trends means NVDA stock has a lot of runway ahead of it, despite gains of more than 50% over the past 12 months.
And the other four tech stocks on this list are just as promising…
Follow me on Twitter @DavidGZeiler or like Money Morning on Facebook.
More on CES 2016: Twenty years ago people would have laughed at the idea of the auto industry having anything to do with the Consumer Electronics Show. But the Detroit automakers completely dominated this year's show. Here's why…