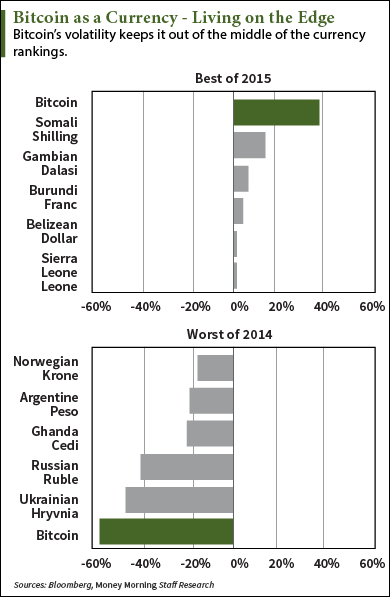 The last two years of Bitcoin price history have a story to tell. You see, Bitcoin was the best-performing asset in the world in 2015 – and by a long shot.
The price of Bitcoin rose 35%, easily beating the next best asset, real estate investment trusts (REITs), which rose just 2.8%.
Bitcoin also was the best-performing currency in 2015. The runner-up, the Somali Shilling, gained just 15% on the year, less than half of Bitcoin's gain.
You're not hearing much about this now, probably because last year at this time much of the financial media were writing Bitcoin's obituary.
You can't blame them. Bitcoin had a horrible 2014. The 56% plunge of the Bitcoin price made it the worst performer among both assets and currencies that year.
But what to make of this zig-zagging Bitcoin price history? Are there any lessons here for anyone besides Bitcoin's skeptics?
You betcha. Bitcoin's worst-to-first journey actually offers several lessons about investing in general…
What Investors Can Learn from the Bitcoin Price History
Veteran investors may think these points are obvious, but people keep making these mistakes over and over: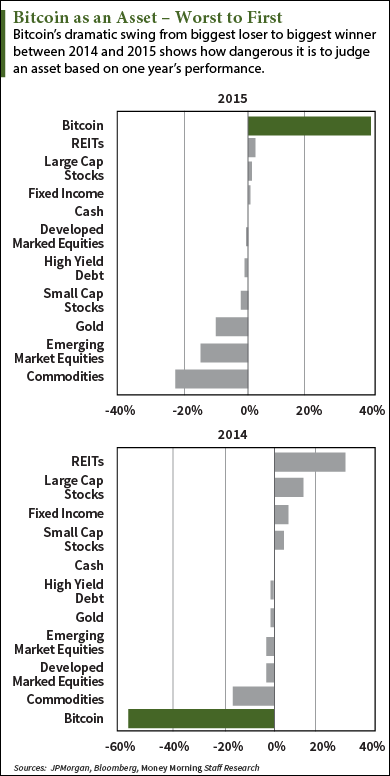 Bitcoin Price History Lesson No. 1: Don't Get Caught Up in the Hype
The media hype in 2013 and the skyrocketing price of Bitcoin fooled a lot of investors into buying Bitcoin at or near the top of $1,147. The parabolic rise of the price of Bitcoin should have been a red flag, but it wasn't. The same thing happens with other investments, particularly "hot stocks." It's easy to surrender to emotion when everyone is hopping on the bandwagon, but it's also a quick way to lose a lot of money.
And that leads us right to the next lesson…
Bitcoin Price History Lesson No. 2: Don't Invest Too Heavily in One Thing
This often goes hand-in-hand with the first lesson. Some people were so convinced investing in Bitcoin would make them millionaires they put as much money as they could into it. Some put all of their children's college funds into Bitcoin. Some used money they were saving for a home. And a few sunk their life savings into Bitcoin. Those who bought near the top lost thousands, some tens of thousands of dollars. Going overweight on an investment is tempting when it looks like a sure thing. But it's not worth the risk of losing the bulk of your money.
Bitcoin Price History Lesson No. 3: Don't Panic During a Rough Patch
Once Bitcoin started to fall, it fell hard. Three months after hitting its all-time high, the price of Bitcoin was down 50%. A lot of people sold in a panic, locking in their losses. While it sometimes becomes clear that an investment has little or no hope, in many cases – such as Bitcoin – the causes of the price drop aren't permanent. Every case is different, but joining a stampede to the exits is rarely a sound strategy. Those 2013 peak buyers who held onto their Bitcoin through 2014 were able to regain some lost ground in 2015, and will likely get back into the black before 2016 is over.
Bitcoin Price History Lesson No. 4: Do Your Homework
When Bitcoin was soaring in 2013, many people had never heard of it. They just knew it was some kind of new-fangled digital currency that would make them rich. Many had no real understanding of the asset they were buying, or the enormous risks that such a new and unproven asset posed. The same goes for any investment – you need to understand the nature of the investment, and more importantly, why you think it will rise in value. In the case of Bitcoin, there was an additional risk beyond the asset itself – the exchange where most people were buying their Bitcoin, Mt. Gox, was insolvent. When it went dark in February 2014, anyone with money (bitcoins or fiat currency) in a Mt. Gox account lost everything. Investors need to ensure that entities they invest with are trustworthy. And lest anyone think this was a Bitcoin-specific problem, talk to one of Bernie Madoff's more than 64,000 victims.
Follow me on Twitter @DavidGZeiler or like Money Morning on Facebook.
Bitcoin Forecast for 2016: Last year Bitcoin's fortunes turned as the financial community awoke to the potential of Bitcoin's underlying technology, the blockchain. That's why the Bitcoin price rebounded in 2015, and why the digital currency's prospects for 2016 and beyond are even brighter. Here's why some Bitcoin price predictions are ranging as high as $3,600…