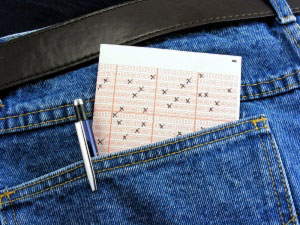 The Powerball jackpot is at its highest ever – $1.5 billion dollars. Winning numbers are scheduled to be announced tonight at 10:59 p.m. People across the nation will anxiously tune in to see if their numbers are lucky. Little do some of these folks know, however, their competition has gone global.
That's because a few young U.S. entrepreneurs are selling Powerball tickets to China…
A university student who wished to remain anonymous told NBC News this morning that he's sold 600 tickets over the past three days. He's managed to do so, he said, on Chinese e-commerce site Taobao. All his customers had to do was wire a fee back to him online. He would then buy the tickets and send their numbers as photocopied attachments.
Here's the genius – if a China-owned ticket wins, he's entitled to 10%.
Voice of America News reported earlier today that only a "few thousand" of these Powerball transactions have been made total, as Chinese e-commerce sites have begun to shut down offers.
The odds of winning tonight's jackpot are one in 292 million.
What do you think about these creative opportunists selling Powerball tickets to China? Tell us on Twitter @moneymorning or like us on Facebook.
Capital Controls Are Here: If you think you can always get cash out of your bank account when you want it, you're wrong. Banks can restrict access to deposits – or confiscate them – and yet the general public has no idea these "laws" exist. Here's how this nightmare could impact you…