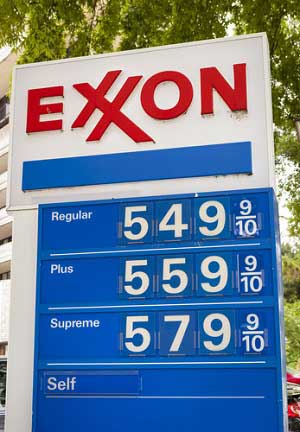 Exxon Mobil stock is the most actively traded oil stock on the market, but that doesn't mean it's the perfect stock for every investor. The oil stock has been beaten down by falling oil prices, but if you already own it, there is one major reason to hold it in 2016.
You see, the Exxon Mobil stock price tumbled 15.7% in 2015 thanks to sharp earnings declines brought on by the 38% plunge in oil prices.
Exxon Mobil Corp. (NYSE: XOM) is the most recognizable oil brand in the world. With a $311 billion market cap, it's the largest independent energy company in the world and second-largest company in the United States. Revenue in its last fiscal year was $383 billion.
Despite beating Wall Street expectations, the company's third-quarter profit fell 47% year over year to $4.2 billion. That was the same profit as the second quarter, which saw a 52% decline from the same quarter in 2014. Its Q1 profit came in at $4.9 billion – a 46.2% drop from Q1 2014.
And Exxon's earnings might keep suffering as the company deals with the recent shutdown of its largest U.S. refinery…
In February 2015, the company's Torrance, Calif., refinery suffered a huge explosion caused by excessive pressure in the gasoline-making equipment. The blast injured four workers and was equal to a 1.7-magnitude earthquake.
The Torrance plant supplies one-fifth of southern California's gasoline. Since the explosion, it has operated at less than 20% refining capacity and put the state's gas prices at a premium to the nationwide average. According to AAA's Fuel Gauge Report, the nationwide average price of regular-grade gasoline today (Jan. 13) is $1.95 per gallon. That's 45% lower than California's $2.83 average.
Last September, Exxon abandoned repairs and sold the crippled refinery to PBF Energy Inc. (NYSE: PBF) for $537.5 million. The company's sale of one of the largest West Coast gas plants could cost Exxon millions in potential revenue. Combine that with record low $30 oil prices, and the Exxon Mobil stock price could endure more volatility in 2016.
Despite consistent losses, we recommending holding XOM stock if it's already in your portfolio. That's because the oil giant boasts one profitable quality that every oil investor is overlooking right now…
If you're a dividend investor looking for passive income, Exxon Mobil stock pays one of the steadiest dividends on the market.
The strength of Exxon's dividend comes from the company's S&P AAA credit rating. This rating indicates a company has a trustworthy credit history and enough resources to support its generous dividend policy.
The Great Recession saw many companies, including General Electric Co. (NYSE: GE), lose their cherished AAA rating. Now there are only three American firms with the rating – Johnson & Johnson (NYSE: JNJ), Microsoft Corp. (Nasdaq: MSFT), and Exxon.
With the highest yield of all three AAA U.S. companies, the Exxon dividend has proven itself to be one of the best on the market.
The company has delivered a constant stream of quarterly payouts since starting its dividend policy in 1983. The dividend grew 5.8% from $0.69 per share to $0.73 over the course of 2015, making it one of the highest-paying oil stocks of the year.
Exxon is one of the few energy firms on the "dividend aristocrat" list. The dividend aristocrats are S&P 500 stocks that have increased their dividend payouts for 25 consecutive years or more.
As of Jan. 13, Exxon Mobil stock boasts a strong 3.9% yield. The stock price is also set to increase from the inevitable rebound in oil prices this year, which will come from decreasing U.S. production and increasing mergers and acquisitions (M&A).
The Bottom Line: Exxon Mobil stock isn't an explosive profit opportunity right now. The stock price has a rough 2016 ahead of it as the company tries to recover from a year of volatile oil prices and lackluster earnings. But if you're a passive income investor, XOM stock offers one of the most attractive dividends in the oil sector. With a 3.9% yield and current quarterly payout of $0.73 per share, Exxon is one of the few oil dividend aristocrats investors can buy today.
Alex McGuire is an associate editor for Money Morning who writes about energy. Follow him on Twitter for all of the biggest oil and gas updates.
Like us on Facebook: Money Morning
Did Saudi Arabia Just Shoot Itself in the Foot? Low oil prices mean less revenue for OPEC's wealthiest nation – and even though Saudi Arabia has hundreds of billions in the bank, two new developments will chip away at those savings faster than ever…