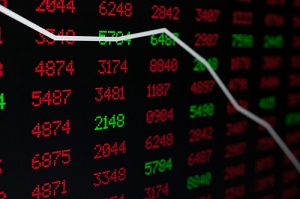 Even with today's (Thursday) gains from the broader markets, we are still in stock market correction territory.
A stock market correction is defined as a decline of at least 10% from a recent high. Stock market corrections historically happen every 18 months. The United States had one in August when Chinese stocks plunged 40% and sparked an international rout.
Since reaching highs in May, the Dow Jones Industrial Average is down 10.6%. The S&P 500 is down 10.3% since August, and the Nasdaq is down 10%. Those declines put all three indexes in stock market correction mode.
Markets are up today, but Wednesday saw major losses for all three indexes.
The broad-based S&P 500 closed down 2.5% Wednesday to end below the psychologically important 1,900 level for the first time since Sept. 29.
The blue-chip Dow index fell 364 points Wednesday to 16,151. That's 9.9% below its Nov. 3 peak and 11.8% below its record high of 18,312 hit on May 19.
The tech-centric Nasdaq, an index that widely outpaced the other two major indexes in 2015, is trailing both this year. The Nasdaq sank 159 points to 4,526 on Wednesday.
The small-cap Russell 2000 has suffered the sharpest losses and is now down a punishing 22% from its June 2015 peak. That puts the small-cap index in bear market territory. A bear market is defined as a decline of 20% or more.
Sign up for SMS so you never miss special events, exclusive offers, and weekly bonus trades.
The same culprits that plagued stocks in 2015 are weighing stocks again this year. Turmoil in China and an unrelenting slide in oil prices are pressuring equities.
As worries mount, trading volume has spiked. NYSE total volume surpassed five billion shares in each of the last two trading sessions. In 2015, NYSE total volume averaged just under 3.7 billion shares a day.
Sam Stovall, U.S. equity strategist at S&P Capital IQ, said that as long as the S&P 500 is below the 1,900 level, the index "will remain in a position of weakness and maintain a bearish bias where traders are most likely to sell rallies and further downside is likely."
 As Q4 earnings start pouring in, investors should be prepared for more volatility.
For Q4 2015, the estimated earnings decline for the overall S&P 500 Index is 5.3%, according to FactSet. If the index reports a decline in earnings for Q4, it will mark the first time the index has seen three consecutive quarters of year-over-year declines in earnings since Q1 2009 through Q3 2009.
That has many investors wondering if a stock market crash will follow this stock market correction we've seen...
Will This Stock Market Correction Lead to a Stock Market Crash?
Money Morning Global Credit Strategist Michael Lewitt has been warning readers about troubling signs in the markets for months.
Lewitt says damage from the commodities bubble, including the collapse of oil and commodities companies like Glencore Plc. (LON: GLEN), and the slowdown in China are just the beginning. That's because the global and U.S. financial systems are more leveraged than ever before.
U.S. nonfinancial corporations have 40% more net debt (debt net of cash) than they did in 2007, Lewitt explains. And seven years of near-zero interest rates coupled with several rounds of quantitative easing disguised "a lot of sins."
"They allowed China to play host to the biggest debt bubble in history," Lewitt said. "That bubble is now popping. And they allowed U.S. corporations to borrow more money than at any time before in history. Sooner or later markets get religion and sins get punished. That time is now."
And while the market may head lower in 2016, Lewitt says investors don't need to get caught off guard. In fact, he's written a complete guide on how to weather a potential $200 trillion credit collapse...
Stay informed on what's going on in the markets by following us on Twitter @moneymorning or liking us on Facebook.
Related Articles: